WebWave - responsive webdesign application - allows you to animate objects on your website like text, images etc.
Adding animation to the object
To add animation to given object click on it and in bottom menu click on 'enable' in 'showing animation' section: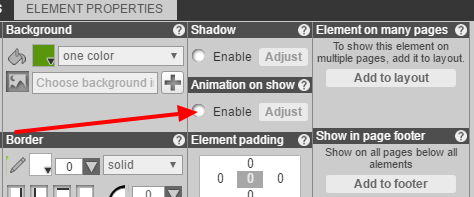 After enabling animations you can edit it after clicking 'adjust'.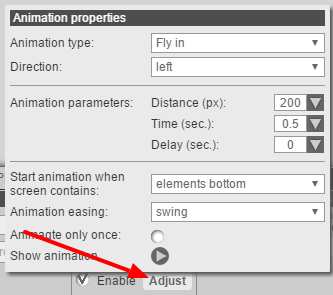 By clicking 'animation type' you can choose one of 5 different types of object animation. You can choose from animations like: arrival, show, zoom, folding and unveiling. Keep in mind that each animation has different further editing parameters.
Next thing you can edit is the direction of animation movement. This option is available only for animations like arrival, folding and unveiling.
By choosing movement parameters you can set the time of animation and animation delay.
In this section you can set at which moment animation should start. You can choose from 3 different start settings:  when user will put pointer on the top of the object, on the bottom of the object, or given pixel numer where you can input value after which animation has to start.
This option allows you to choose frequency of animation lines, which means the speed of the object for given time. You can choose from 8 different smoothing functions.
By checking this box you can make your animtion to not animate again after scrolling back to animated object.
This section allows you to preview the animation before publishing it on your webpage.