Element Facebook Comments in the WebWave - responsive webdesign application - gives the users of your website the ability to leave comments through Facebook. Users will be able to write comments using this site directly on your website.
Adding Facebook comments element
Changing the size of the element
Facebook comments settings
Adding Facebook comments to a website
Facebook comments can be added from the toolbar on the left side of the creator. Just click the appropriate button or drag it onto the page.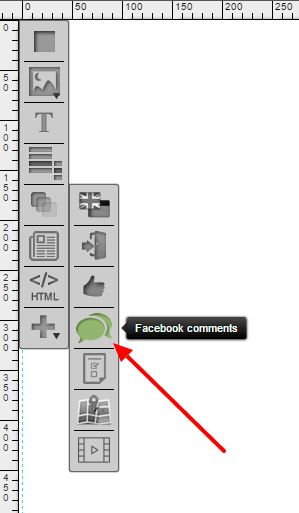 Changing the size of the element
You can only change the width of the element by selecting it and then dragging one of its sides in any direction. When you change the width of the element it can automatically change their height to fit its entire contents.
After you select an element in the bottom panel you will find the box FB comments settings. In the settings you can customize the content and appearance of the element.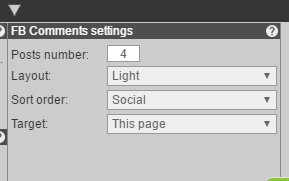 Specifies the number of posts to be displayed in the element. The size of the element will be dependent on the number of posts.
You can choose from two standard Facebook styles.
Allows you to determine how will the comments be displayed on your website, options include:
Chronologically – the most recent comments will be displayed on the website
Reversed chronology – comments will be displayed from the oldest
Social rank – comments with most likes, comments and shares will be displayed on the website
Here you can determine which page will be displayed on the users timeline after adding comments to your page. The default setting is your website, but you can enter there any URL.