Websites created in WebWave - responsive webdesign application - are displayed on subdomain webwavecms.com by default. Your webpage can obtain HTTP address similar to this: http://websiteID.webwavecms.com. To each website you can easily add your own domain. This allows you to show your website under address you want, e.g. http://mydomainname.com. You can change domain in two ways:
1. Register new domain via WebWave CMS interface - you can learn that here.
2. Redirect domain registered under 3rd party provider - this article will explain this metod.
Redirect domain under 3rd party provider
To redirect 3rd party domain to your website created in WebWave website creator you need to perform two actions.
Domain connection on webpage.
Firstly, add domain to your website created in WebWave CMS website creator. This is required for website to know that it needs to be displayed under this specific address. To add domain go to 'website address' option:

Window will pop up. Go to 'I already have my own domain' section and click on 'add' button.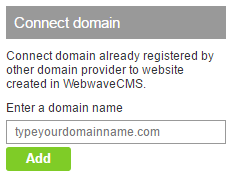 Addtional window will show up informing you how to redirect domain on 3rd party provider's site to link it to your webpage.
Attention!
If you will input domain address which is not reserved yet, another window will pop up on the left, where you can register your domain.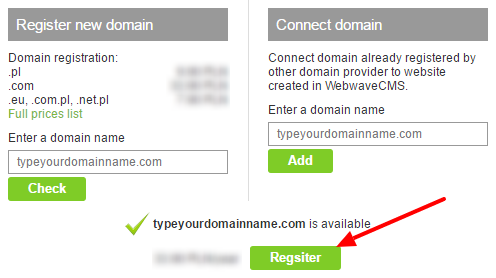 Attention!
When you will add your domain, e.g. http://mydomainname.com, there is no need to add www.mydomainname.com domain as well. For WebWave both adresses are the same, one is enough for WebWave CMS to work correctly.
Domain redirection settings
Second thing you need to do is redirect you domain to IP address of WebWave CMS website creator servers. Redirect DNS records as follows:
record A on address 79.133.210.186
record MX on address mail.webwavecms.com

Above steps may differ for some of providers, below are links with details about domain redirection for most popular domain providers.
PS. When you will add new domain to your website, it is good to set which of the domains is the main one for your webpage. This operation will help you with positioning your website.