Websites created in WebWave - responsive webdesign application - are displayed on subdomain webwavecms.com by default. Your webpage can obtain HTTP address similar to this: http://websiteID.webwavecms.com. To each website you can easily add your own domain. This allows you to show your website under address you want, e.g. http://mydomainname.com. You can change domain in two ways:
1. Register new domain via WebWave CMS interface - this article will explain this metod.
2. Redirect domain registered under 3rd party provider - you can learn that here.
New domain registration

To register new domain using WebWave creator open Webmaster panel and go to settings of choosen website. Then go to 'website address' option. New window will pop up. Fill the 'enter domain name' bar with domain address you want to reserve. After filling above field with address, click on 'check' button.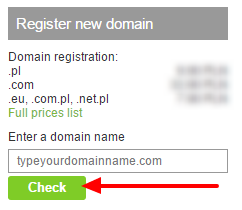 If domain will be available, price will show up and 'register' button appear.

After clicking 'register' you will be taken to payment window. After completing transaction domain will be automaticaly registered and configured. Remember that after registering domain to DNS servers new data is being processed and propagation of that data may take up to 24 hours. If your website is not visible under new domain instantly, you may need to wait a little bit longer for changes to apply on DNS servers.