In the WebWave - webstie creator without coding -  "languages menu" item allows the user to switch between the different language versions of the website. We can determine which languages from previously created are visible in the menu, as well as replace their flags.
Adding the "languages menu" to a page
Adding the "languages menu" to a page
"Languages menu" can be added from the toolbar on the left side of the editor. Just click the appropriate button or drag it onto the page.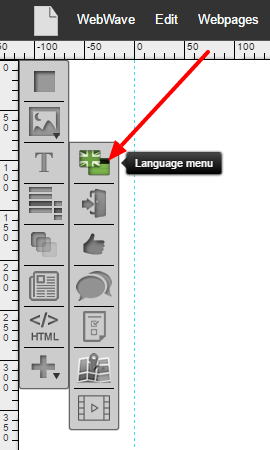 After selecting a "language menu" item, in the bottom panel, a "language version settings" box appears. In this box you can choose which languages among those already added to the website will be displayed in the menu. You can also change the appearance of icons corresponding to the various languages by clicking the button to the right of the current icon.