To understand how the layers are working in WebWave - responsive website creator without coding - imagine a sandwich with ham and cheese. If we put the cheese on the ham, then through the holes in the cheese you can see ham. If we put it otherwise, the cheese will not be seen at all. It is the same with layers. The higher on the list is the layer, the more elements cover the element assigned to this layer.
When you add a new item, a new layer is created automatically, with which it is inseparably linked. Selecting an item will select the layer and vice versa. Likewise, removing one will automatically remove the other.
The default names of the layers can be misleading. So feel free to rename layers to make it easier for you to figure them out. To do this, double click on the layer name in the layer menu and enter an appropriate name. After typing, press Enter to accept the change.
A good idea is to set a name related to the contents of the element e.g. "contents of the offer," "funny cat picture" or "main menu". This helps to navigate through layers list
To change the order of layers, just drag and drop the layer to the right place. As in a sandwich, the higher layers cover the layers below them: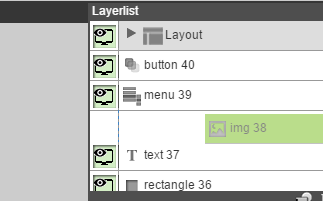 To hide a layer, and thus also hide an item, click the eye symbol. The eye will disappear and the element on this layer will disappear as well. Clicking again on the eye symbol will show the item: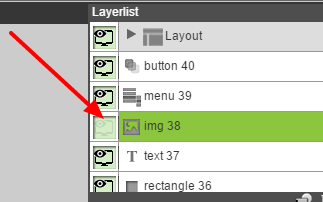 To select multiple layers, press Ctrl and select chosen layers. To select all layers in the selected range, select one layer, then press Shift and select the second. All layers between those two (included) will be selected.