Creating a website in WebWave - responsive website builder without coding -  be aware that different monitors have different sizes and different resolutions. This means that your website will not always look the same as you see it on your computer. Fortunately WebWave CMS creator provides many tools to help you create a page in the right way.
Adjusting items to the width of the page
Creating a new website, you can set the width in pixels: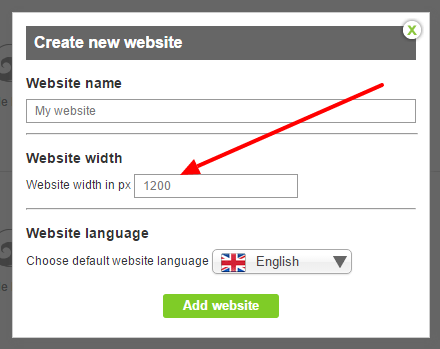 In the editor, width, this width is indicated by two green guides:

Green guides, unlike the blue guides do not snap to elements. You also can't move them. They are designed only to show the boundaries of your website.
In a situation where the user will view your website on a screen smaller than the width of your page
a slider will appear in the web browser, allowing scrolling of the screen horizontally.
This means that elements placed outside the guides may not be visible at lower screen resolutions.
Adjusting items to the width of the page
If you want the elements on your page were wider than the width of the website use the option "width 100%" - it can be set in the properties of the item:

Elements with a width of 100% always adjust themselves to the width of the screen, so they will always be as wide as the screen. This is particularly useful when setting up the footer of a different color than the content of the page, the photo you want to cover a selected area or slider working as the page header. E.g. slider with a width of 100%, regardless of the width of the screen always looks like this: