Publication of the website is a very important part of work with the WebWave creator. You can publish it while still working, after it is finished, and after any changes. This is the moment when the website project, you created in the Webwave becomes a real web site.
You can publish the site unlimited number of times. With each release a new version of the site will replace the previous one. So do not worry that you will publish a site that is still incomplete or lacking in something you really want to add. The first version of the site can work while you're still developing some of its elements.
How to publish a website?
To publish your site, go to the editing panel of the Webwave creator and press "Publish" at the top panel.

WebWave CMS will now convert your page to HTML code and CSS and Java scripts which combined together will form a website. This process may take a while, especially for large websites. After finishing the publication you will be asked if you want to see the website. The choice is yours.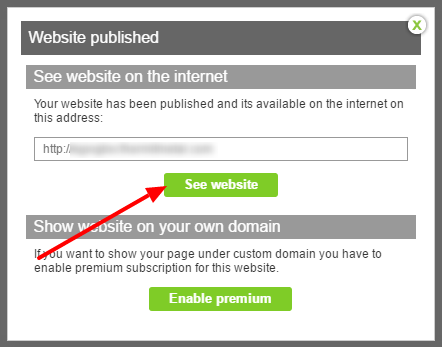 When to publish a website?
You can publish a website whenever you wish to, eg .:
You want to show the pag you're working on to a friend.
The website is ready and you want it to get public.
You made the corrections to the old texts on the page.
You have added a new article.
You changed the favicon.
You just want to see how your current progress on the site looks in a browser.