In the WebWave editor you can set default values for all basic text styles. What's more, you can also add your own style. How to do it? This is possible by using the tab on the right side "text styles".
This tab will expand on hover: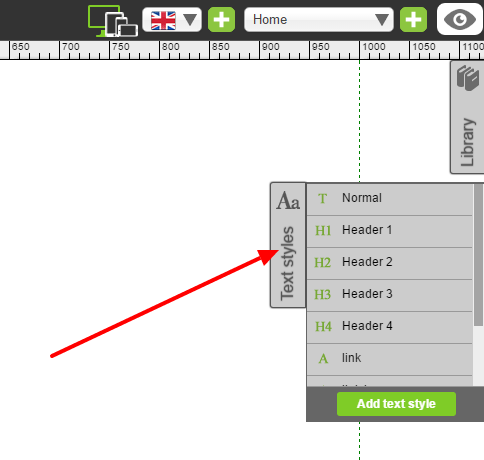 By default, the following text styles are available:
Normal – standard text
Heading 1, Heading 2, Heading 3, Heading 4 – Headlines in website content h1, h2, h3, h4. You can read more about headings here.
Link – Default appearance of links on a page
Link hover – The default appearance of links on hover
Every style can be freely modified. This way you will not have for example to change the color of each link added to a website. Just set the default color of links and you're done. To edit the selected text style, click on the tab "Text Styles". This opens a new window for editing text styles. Make your changes there and in the bottom panel, click "Update". Finished.
What's more, if you ever find that you would like to change, for example default color of the text on your website, thanks to the text styles you will not have to click through all the pages and change it in several places. Just edit the style of the standard text and change the color. The changes will automatically be made wherever normal style is used.
To add a new text style in the WebWave creator in the menu "Text styles" on the right side click "Add text style" button.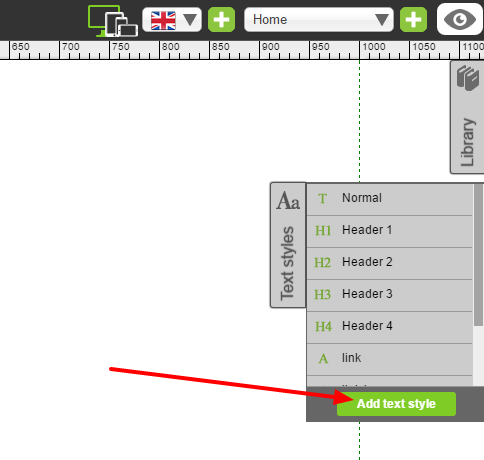 When you specify a name for the new style, proceed to the new window, where you can edit appearance of this style. When you're done, save changes using the button at the bottom panel.
From now on, your will be able to use the new style when editing text: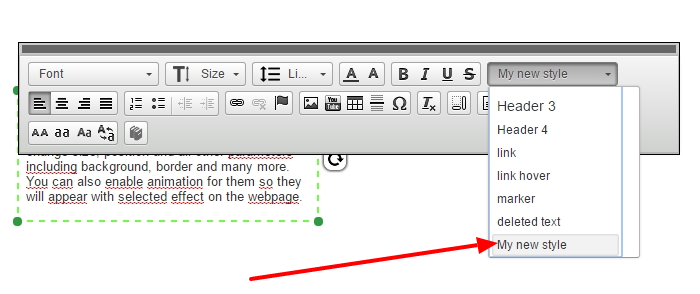 What is important, all the additional text styles can also be edited after they are created. Changing this style will automatically change all the text on the website, which use this style. This way you will not have click through and change all the headers on your site, when you think that the size of the headers is for example insufficient.