In WebWave - responsive website creator - we provide webmasters with basic statistics of any website. You can see how the popularity of the website changes and see how your marketing efforts affect traffic.
How to view website statistics
To view statistics of your page go to the webmaster panel and click the "Statistics" button next to that page. Statistics are displayed separately for each month.

What do the different statistics mean?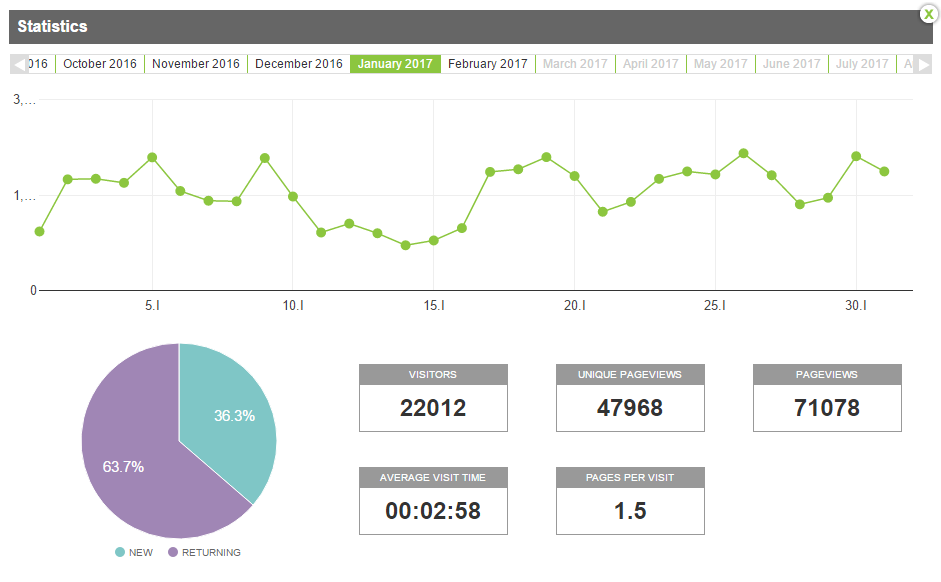 Traffic chart
You can see here number of daily visits. It is useful to observe trends and to verify how various activities, such as acquiring new link or starting advertising contributed to the traffic.
New and returning visitors
This pie chart shows the percentage of page views generated by first time users and by users who were already on your page.
Visitors
This is the number of people who visited your website during the month. This is really a number of devices and browsers used to enter your website. If one person visits the site on a single computer with Firefox and Chrome it counts as two users. This happens also if the entries occur from a different devices, such as two different computers, or laptop and smartphone. This number should be treated as an approximation of the number of users who visited the site.
Unique pageviews
When a user enters the homepage of your website, this is one unique view. Then he goes to the "About us" page and the price list, which will generate two more unique views. Now he decides to return to the main page and this step will no longer count as a unique view. Each user will generate unique view for every page visited at least once. Total number of views is the number generated by all users.
Pageviews
This is the total number of pages visited by all users. It is not important whether the user was already on the sub-page or not. If one user will visit 10 pages 10 times each, it will generate 100 hits, but only 10 unique page views.
Average session time
This is the average time a user spends on your Web page during one visit. Some may spend on your site up to an hour, and some come and immediately leave. This is the total time spent on your site divided by the number of sessions.
Pages / session
This is the average number of pages seen by user in one visit. It is similar to the average session time. Some users look at ten pages while others just at one. This is the total number of visited pages divided by the number of sessions.
More detailed statistics
Sometimes you will like to know where do the visitors come from, how they behave on the site, or which site causes the most exits. If you want to measure the traffic more precisely it is necessary to connect to your site free Google Analytics tool. In our tutorial you will learn how to do this: Examine your web site traffic – Google Analytics.