The aim of any website is gaining the attention of visitors - no matter whether you sell nuts or luxury cars, and maybe old bagels, on the other hand - without the involvement of the public does not have a chance that he would be interested in our product.
I would like to show you how to achieve this success on the basis of recently distinguished with the prestigious Webby Awards Polish website which deals with the history of Warsaw.
First impression

So, the moment in which we decide whether we remain on a website, or quickly move on. On http://warsawrising.eu/ greets us like a picture in an old cinema - the number of counting down the time to the beginning of the session. Usually I do not like to wait for the loading of web pages, but here ... all creates announcement really amazing climate, which worth the wait ...
After a moment begins a short intro that shows climate pictures of old Warsaw, where the background is likely to have a password, and in the background accompanies nice melody ... wait a minute - is not this something you really do not like? Not in this case. Everything is done with a sense of appropriate behavior and mood, and above all not too long. In addition, we see all the time, you can skip the intro, which calms us.
Chapter One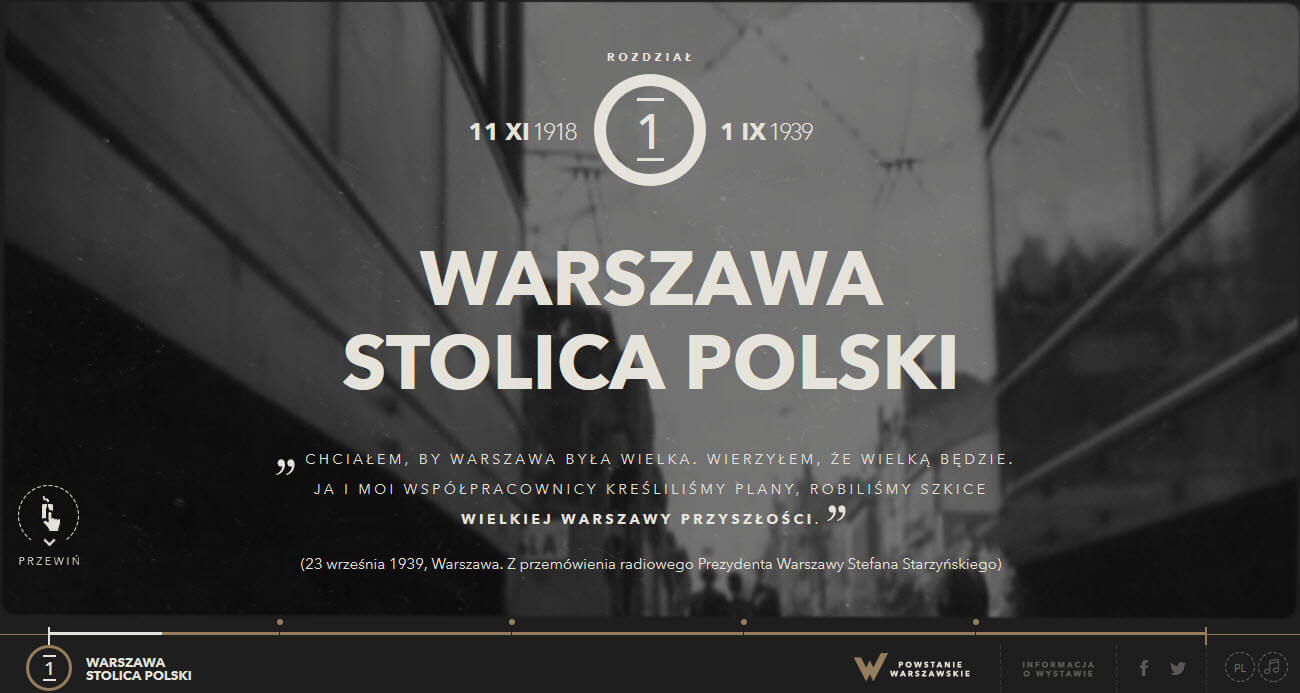 So we begin our journey through the old Warsaw, the rhythm of the book narrative. We can manually choose the pace of our tour and at any time to move on to further explore the recesses of the interwar capital. Navigation is simple and clear. Its main part is done by scrolling the mouse wheel, which brings us to the next chapters. And these are shown at the bottom of the website - so that at any moment we can return to the previous step.
Interactivity key to success
The next chapter is a walk around Warsaw. An interactive map that responds to mouse movements, combined with subtle animations that show us another active elements on the website, make me want to explore. Immediately I click on the first point and immerse themselves in a different world - a few words of introduction, and then accurate viewing photos - here we also have the effect of interaction - picture reacts to mouse movements, so we feel like we discovered another of its elements - really had a desire to look at each corner pictures and look at interesting nuances.
Readability and clarity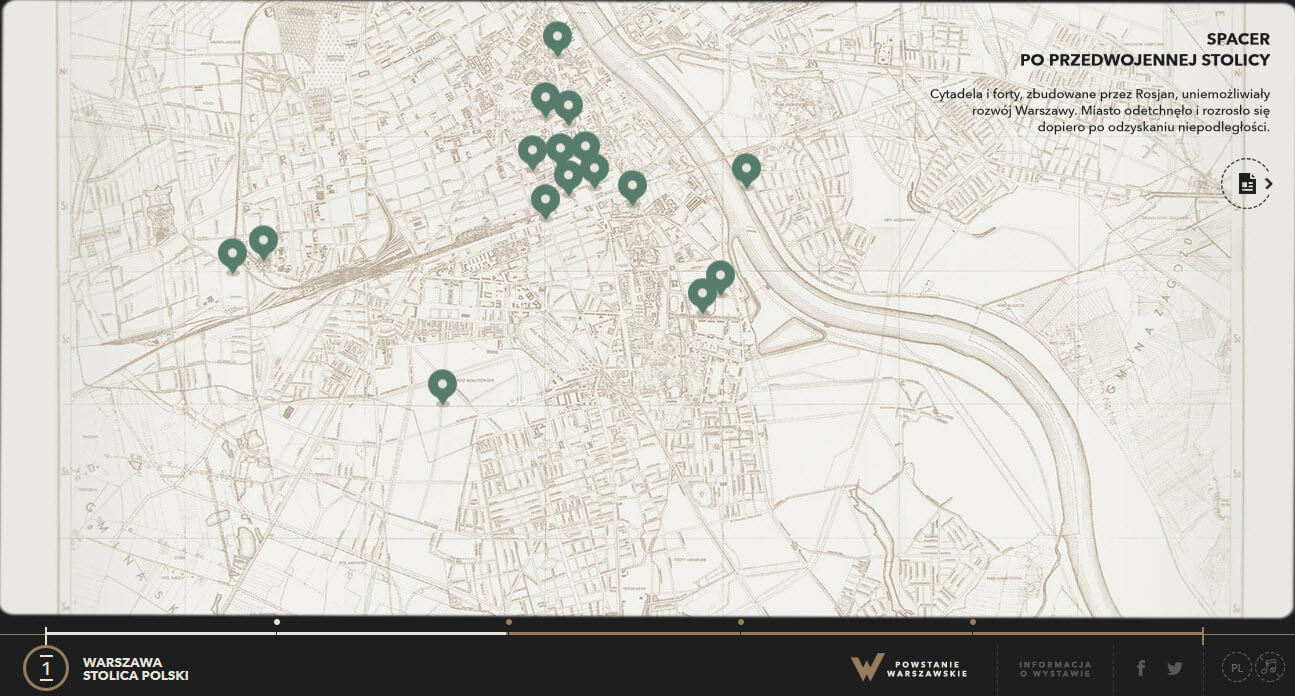 The following sections present more detailed information, but they do it very clear infografikach. This eliminates the need to pierce through long blocks of text to get to know the most important information. This form will go even to people who are not fans of the story.
Image, word and movement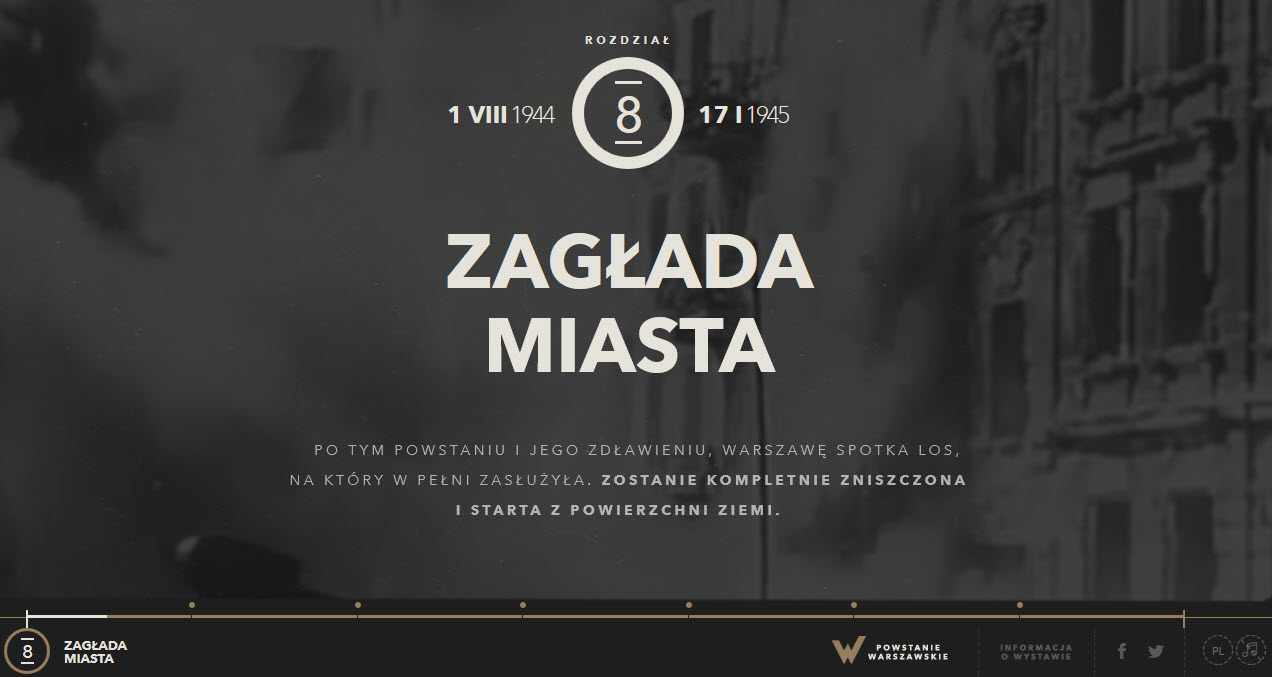 Through the use of various forms of media, this website takes us on an incredible journey and engaging history. Do not allow to get away and not "yadda yadda" dłużyznami - when the rate falls, as soon as it is animated film, or a new solution that catches our attention.
Despite so many different ways to communicate, we never have the feeling of being lost on this website, because the navigation is very well thought out. Until everything is kept in a fantastic climate, which soaked up with every chapter.
Summary
This page shows that you can break the generally accepted standards, if only we have the justification and a clear and coherent vision of what we want to create. Let's look at our project as a whole, not a collection of separate pages and consider whether it is one interesting story that will provide our assumptions. No matter whether we want to present carpet cleaning services, or to talk about landing on the moon - each of these stories can be interesting in their own way.
Author: Tomasz Szwed. I analise customers needs and propose best solutions. Next I watch over whole process of designing websites - from first prototypes to working website. Personally I'm a big fan of board games.