Looka - AI logo and brand identity generator
Looka is a great tool for creating brand identity. It generates a logo for your business and brand guidelines like color palette, and fonts that you can later use to to maintain a cohesive look of your business in all your visual communication.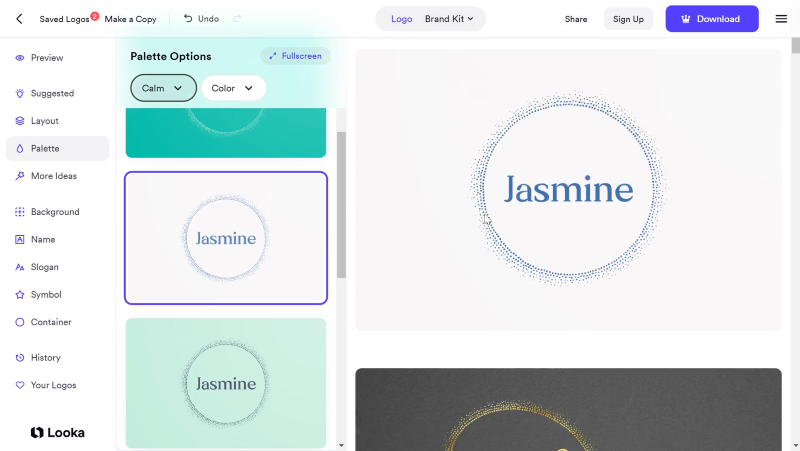 What makes Looka really stand out and be one of the top AI tools is that it doesn't just create a logo and guidelines, but also lots of marketing and business assets that you can use. What I mean is that you get tens of branded social media post templates, email headers, business cards, or invoices that are aligned with your visual identity and ready to publish. 
I was really impressed with the possibilities that Looka offers. Their solutions help small businesses build a brand of their own without having to worry about hiring a graphic designer and investing lots of resources in this long process. 
WebWave - AI website builder
Once you build a brand you need a website to establish your online presence and truly grow your business. WebWave is here to help you leverage digital forces. 
WebWave is a website builder that is known for its ease of use and drag and drop interface. With no experience in web design, you can create a stunning website because you work as if you were using a graphic design tool like Canva. 
Right now, WebWave is incorporating AI by introducing WebWave AI Writer (that you can use right now) and WebWave AI Website Builder (coming soon). These generative AI tools can help businesses build their online presence more easily than ever.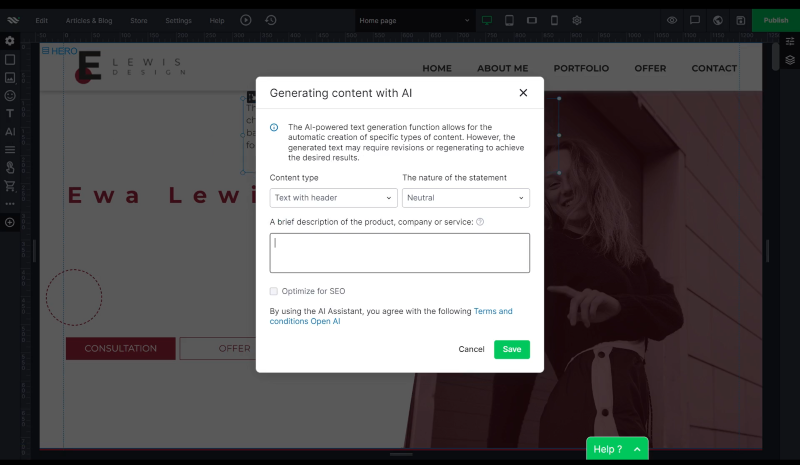 AI-powered writing feature allows you to generate content for your website with one click. You can generate headers, advertising slogans, or even entire blog posts that you can even optimize for SEO. In seconds you can have high-quality AI content that will fill your website with value. 
Soon, with WebWave AI Website Builder you will be able to generate an entire website from a brief description. It's a truly mind-blowing feature designed to help businesses grow online. 
Predis - AI marketing and content generation tool
Another tool on the list is Predis. It's an AI social media post and content generator. One of the things that I like the most about Predis is that it covers all the basics. 
They offer multiple content formats - AI videos, reels, TikToks, carousel posts, you name it. Then There are multiple ways to generate it. It can be based on the text description that you can provide or an image. You can even add a link to a blog article that you already wrote and Predis will turn it into a social media post. It's very useful if you're into content recycling which is a very effective content marketing strategy.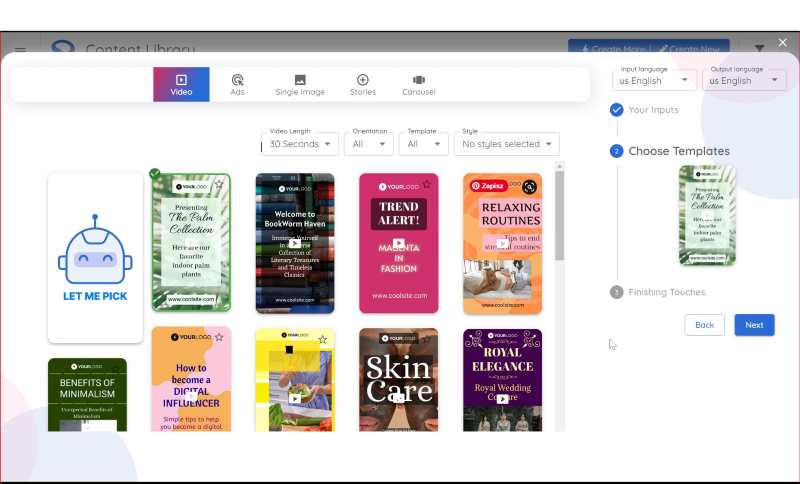 And if you don't have content ideas, you can hop into their Idea Lab and generate ideas in a conversation with their easy-to-use AI chat. You can also run a competitor analysis to always stay at the head of the game. 
Of course, then you can schedule all the posts that you created in Predis without the need to leave the app. It's a powerful AI tool that helps small businesses to streamline their social media operations. 
Flowrite - AI email writing assistant 
Another tool that I shortlisted is Flowrite. It's an AI email writing assistant. It helps you write emails. Simple as that, but very useful. 
Flowrite works both as a Chrome extension and as an independent app so that you can use it as you please. 
It scans your emails so that it can easily adapt to the tone and context of a conversation that you have. You can use it to reply to emails or to write new ones.
Flowrite offers a rich library of email templates from business inquiries to link-building cold openers. Once you pick the right template, you get 3 message versions and can always write another iteration and specify what you would like to change. For example, make the email shorter, change the tone to more professional, or focus on different topics more.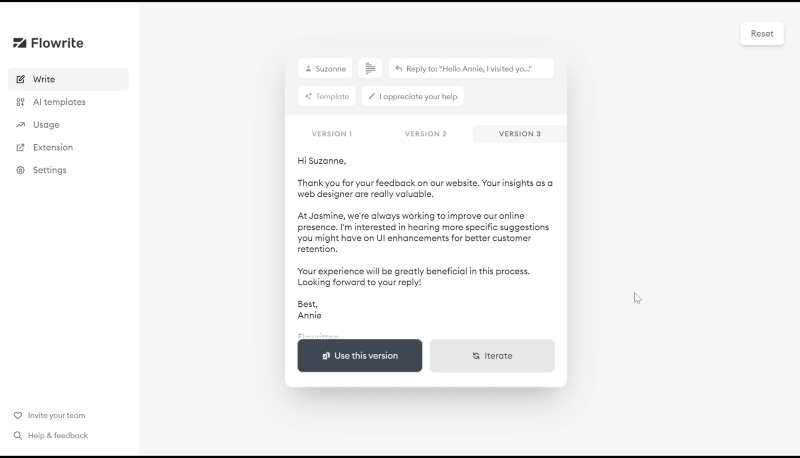 It's a very agile tool, it's providing small businesses with a solid solution for struggles with email communication. No more staring at the blank page!
Mem - AI note-taking tool
Mem is a simple tool that seems quite innocent until you start using it. It's a note-taking platform that uses AI for its advanced search features allowing businesses to stay organized. 
Connect it with other software so you don't lose any notes and ideas. Create collections for your notes to make them even more well-organized. And then, when you need it, just type the words and Mem's algorithm will find the right note for you. Even if you don't write the exact keyword.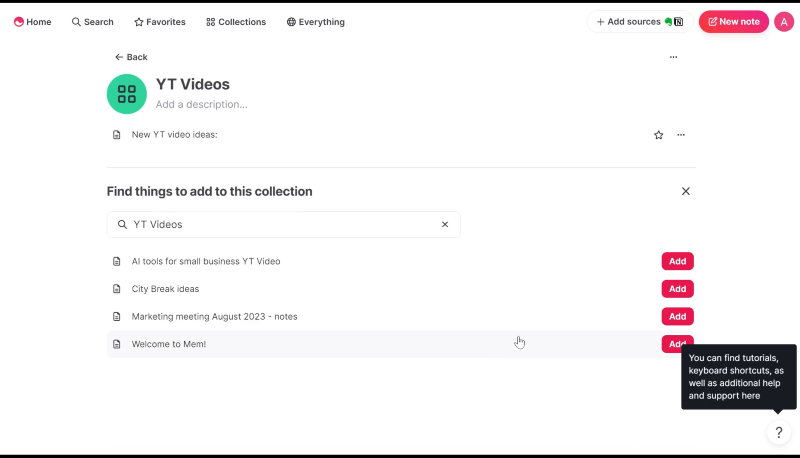 Mem is here to keep you productive. It's your personal AI assistant. 
Sheet+ - AI spreadsheet assistant 
Sheet+ should be a friend of every business owner. It's an amazing tool for those who use Excel or Google Sheets. 
Sometimes, you have to use a spreadsheet to calculate and analyze stuff, and Sheet+ is here for businesses to make data-driven decisions with ease.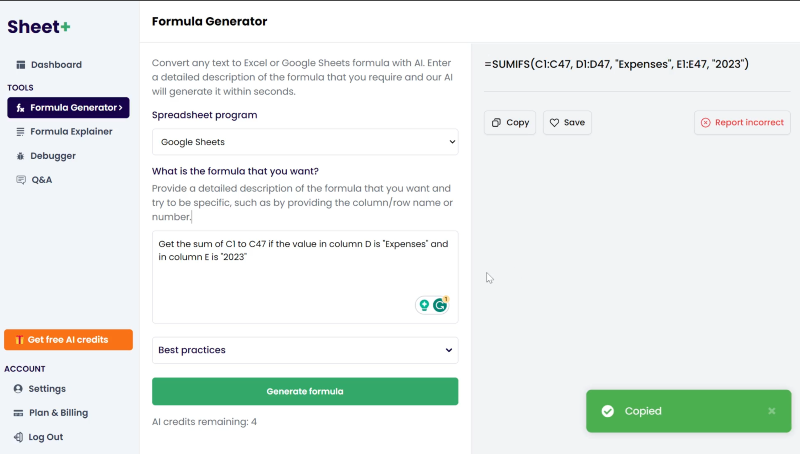 It can write formulas for you based on the result you want to achieve. It can explain the formulas you don't understand and find errors in the ones that you wrote but they don't work. This tool can save you so much time and frustration. Small businesses can improve their business processes with it. 
How to pick the right AI technology for your business?
As you can see there are so many AI tools or tools with AI features. To pick the best one for you, you should deeply understand your business profile, and your strategy and identify areas where you might need some help from AI. 
If you run any sort of marketing campaign, AI marketing tools are for you. You can not only use these tools to create content but also to create more targeted marketing campaigns. 
If you work in a team (even a small one) or have many projects, you might look into management tools. 
There are the right AI tools for almost every point. Before you make any decision, make sure that you go through all the features (if it's possible, use a free trial) and make a rational decision if you really need it. Look for the best money-to-value ratio and enjoy some help from AI.