Traditionally, webmasters were in charge of designing websites, and building a website was quite challenging. You needed special skills and a little luck to prevent things from going awry. However, technology has gradually evolved over the years, making it possible for visual designers and non-technical individuals to develop websites using platforms like Canva and WebWave. 
What is Canva?
Canva is a popular tool that allows you to prepare a variety of graphics. You don't need advanced graphic design skills to create graphics using this platform. Canva allows you to use ready-made templates that can be edited. In fact, Canva's rich template library is one of its strongest assets. Templates, combined with premade elements and a user-friendly interface make Canva a perfect tool for non-professional designers. 
Recently, the Canva team introduced web design features. From now on, you can use Canva to create a simple website. You can publish your site under a free domain, buy a domain via their platform or connect to a domain name you already own.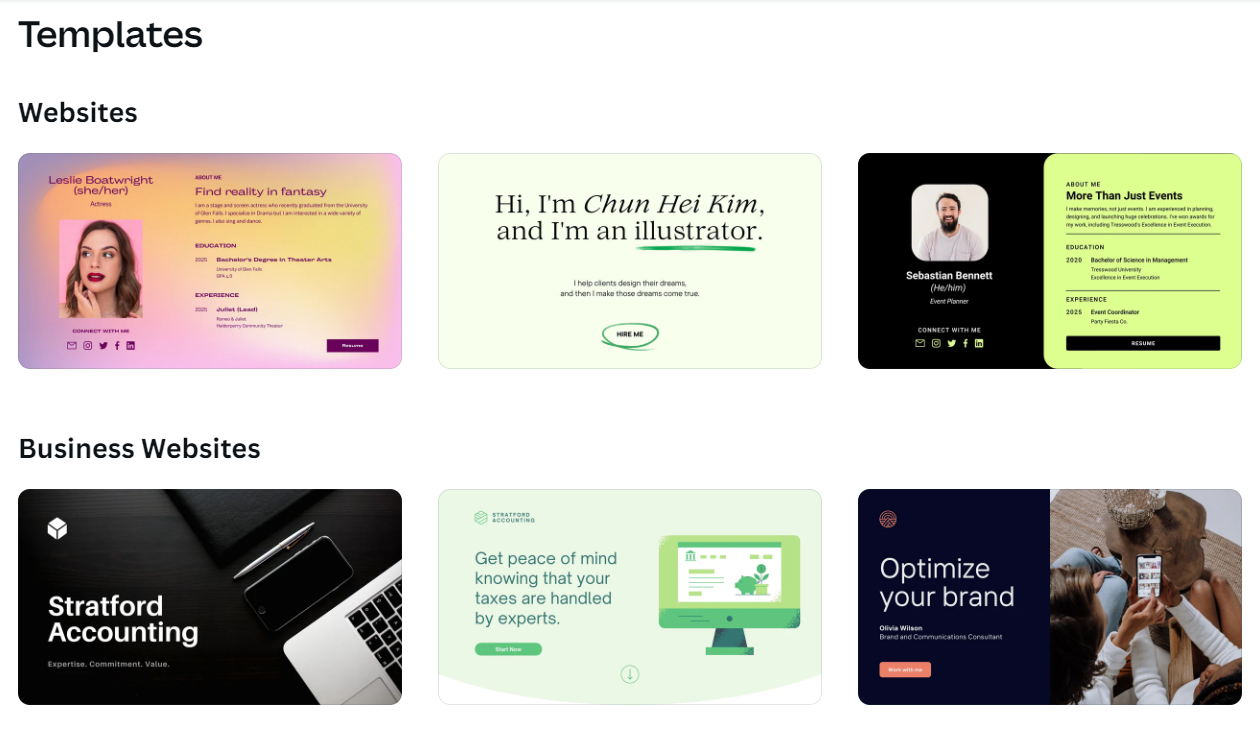 How to create a website with Canva?
The easiest way to create a website in Canva is by editing a template. To find a website template in the bunch search for "website" on the Canva homepage. You can narrow your search by adding specific qualifiers to find more relevant templates. Templates with crown icons are for Canva Pro users only, while those without are free for all users. Once you find a template you like, click on it to open it in a new tab and customize every element to make it unique. Unfortunately, with Canva, you can only create one-page websites. It makes the design experience super easy and mistakes-proof but also very limited. 
You can only make a simple navigation bar with limited customization options. If you want to add a proper blog or online store, you will need to use an external solution. 
Is Canva websties good for web design? 
Even though Canva is primarily a graphic design tool, it can be also used in web design. Most of its graphic design features are also available for web design projects. You get access to a wide range of templates that you can customize to create unique designs. It also provides a variety of design elements, such as images, icons, and fonts. Canva Pro users can access more advanced features like uploading their own fonts and adding animation to single elements or a whole page. In their recent update, they also added a chance to draw custom animations. You can also benefit from a Brand Hub feature, where you can add your brand colors, fonts, and text styles to make sure that you can make your site feel more like you in no time. 
It all sounds great, but let's not forget that Canva is primarily a graphic design tool and does not have all the features and capabilities of dedicated web design software. Being limited to creating only one-pagers is a first disadvantage. Some may also find that Canva is lacking in the flexibility and design control needed to finish more complex projects. 
So, Canva is suitable for web design to an extent, it can be used to create simple and attractive web designs, but there may be better options for web design projects that are more than a landing page.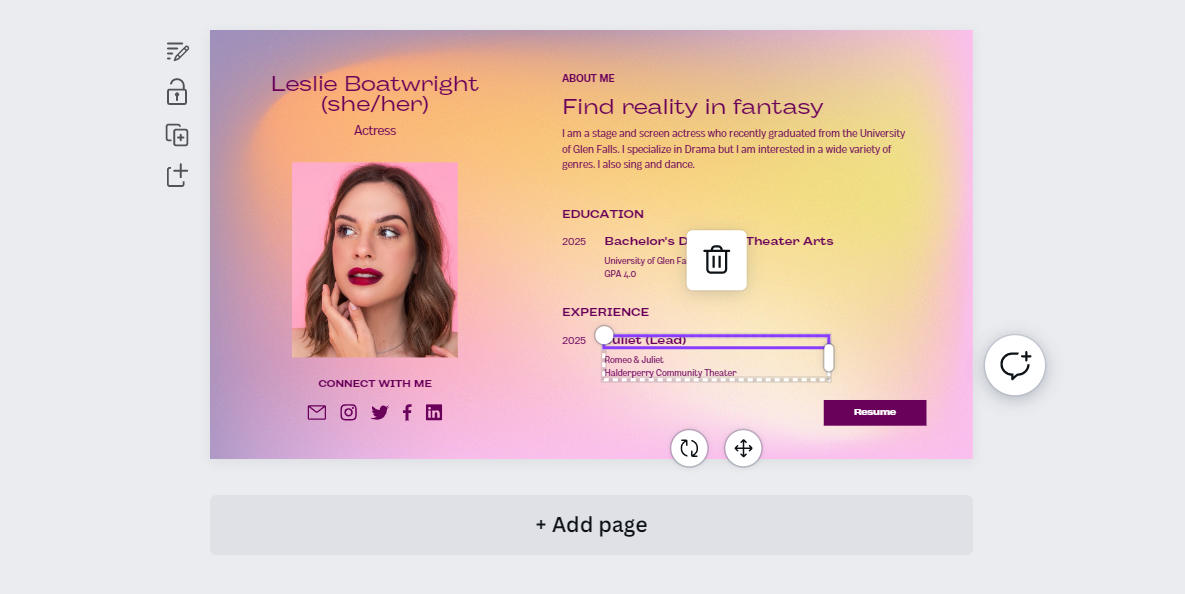 Is Canva website builder free?
Creating a site in Canva is free. However, you can only publish it under the domain your-username.canva.site. Having a unique domain or linking a new site to an existing domain are features that are available when you upgrade to the Canva Pro version. 
What we like and don't like about Canva
Advantages:
Customizable templates

A large selection of templates (several hundred) and graphics (several thousand)

Good UX / UI

Possibility of working on a project with several people at the same time

Brand Kit (possibility to save and use logos and company colors)
Disadvantages:
You can build only one-page websites

Lack of responsiveness and optimization

The categorization of templates is poor

It's not possible to quickly determine which features are free and which are paid

No White Label offering

No e-commerce

No mail
Why WebWave can be a Canva website builder alternative?
If you've tried Canva website design and want more, you should try WebWavwe. WebWave is a drag and drop website builder that was made for creating websites as if you're designing graphics. 
WebWave offers greater control over website design as well as some other excellent features like:
With WebWave you can create your business website as easily as in Canva but without the need to sacrifice any functionalities. 
 
WebWave is like a graphic design tool for creating websites
WebWave is the only true drag and drop website builder. This means working with WebWave is similar to working with graphic design software. You can move elements around freely and place them anywhere on the page canvas. Unlike other site builders, you don't need to position your site elements according to the "invisible table cells" layout. With WebWave, without knowing HTML, you can design different types of websites, for yourself and your clients. WebWave is a great solution.
Graphic designers will find WebWave's overall editor interface and layers panel similar to the tools they use daily. People use WebWave like a graphic design tool! So if you're familiar with Photoshop, Figma, Illustrator, or Canva, WebWave will seem like home!
Everything under one roof
WebWave is a graphical editor and advanced page builder rolled into one. WebWave was inspired by graphic design tools, but it wasn't just about the interface. You'll also find similar features and functions that you're used to using in other graphics-based software. You don't need to go to Canva, Figma, or Photoshop anymore to design a page layout and then transfer it to the page builder. Create a website for free with WebWave!
In WebWave, you will find everything you need to design a page layout: guides, shapes, layers, fonts, and symbols. You will be able to create graphics and modify them on the fly. Easily edit and crop your image, change its size, border, transparency, gradient, blur, brightness, contrast, saturation, and more. The website will look great! You will also be able to take advantage of the snap effects, parallax, or Ken Burns.
In summary, WebWave has all the features and functions you need to create a unique website.