How to use Midjourney in web design 
As predictable as it is, I wanted to use artwork created in Midjourney on my website as design elements. I decided to choose a similar approach that I had to ChatGPT and first write a general prompt asking to create a layout for a plant care app website.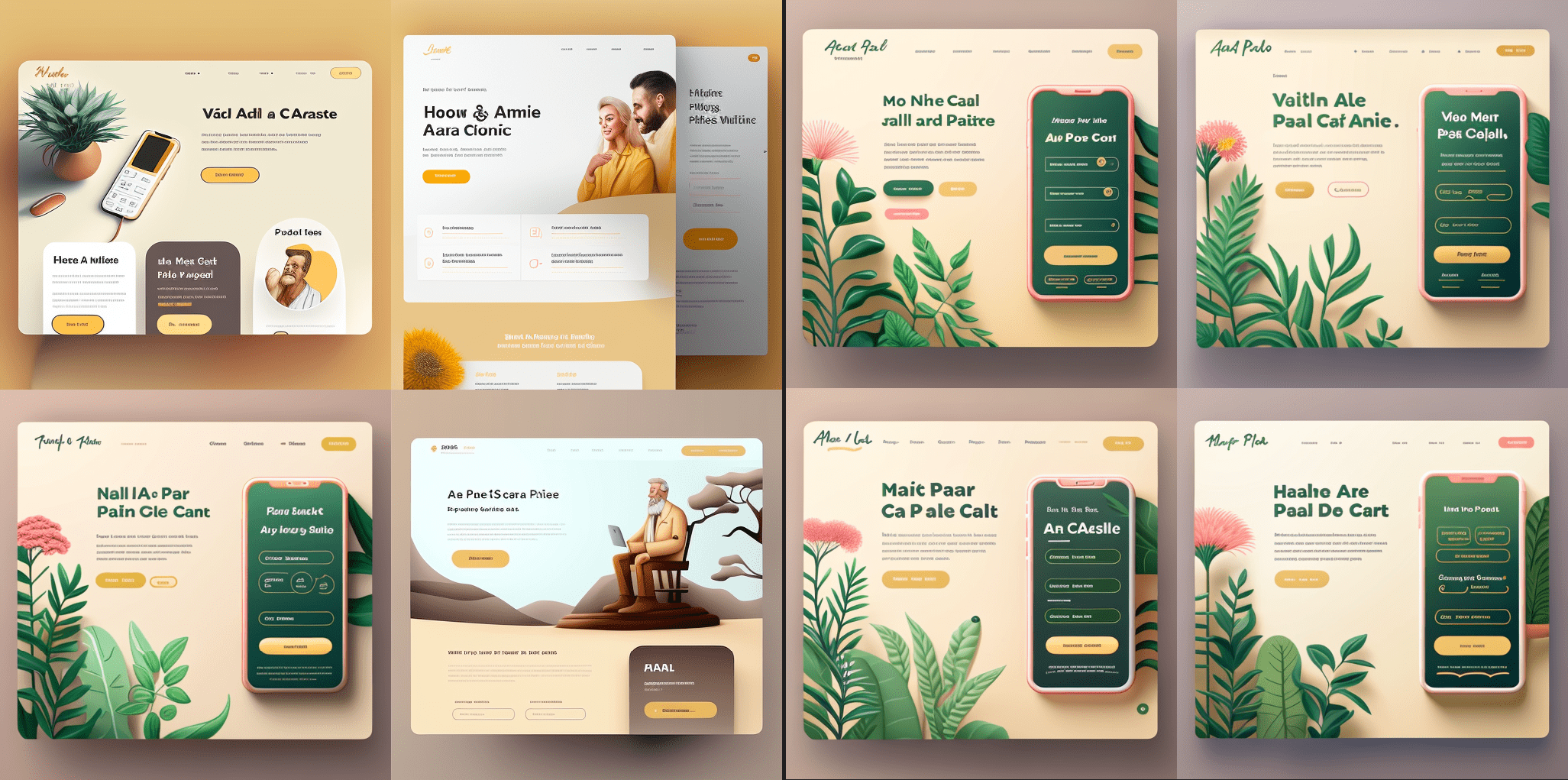 Inspired by the results, I opted for a hero section with a mock-up of the said app. I started working on it by typing various prompts. With each artwork created, I was getting more and more specific, adding details about the color palette or even including a monstera leaf in the design. The right prompt is a key to success in working with Midjourney. Writing the precise description requires a trial-and-error method. Changing just one word can invert the final result. In my case, it took me 17 attempts to generate the art I was satisfied with. I chose my final images from 48 unique artworks. Just think how much time it would take to create all of that by yourself! AI once again helps you work faster and more efficiently, especially when you're just creating a prototype of a website. 
Creating a plant care app website with AI tools
After I generated all the content and necessary materials, it was finally time to build a website. I picked two illustrations created in Midjourney and removed the background from them so that I could use them in my project. I created quickly a logo for my app and picked the right fonts for a website. I used the imagery that I created as a guide for all my styling choices. The color palette for my website was also picked out from the AI art.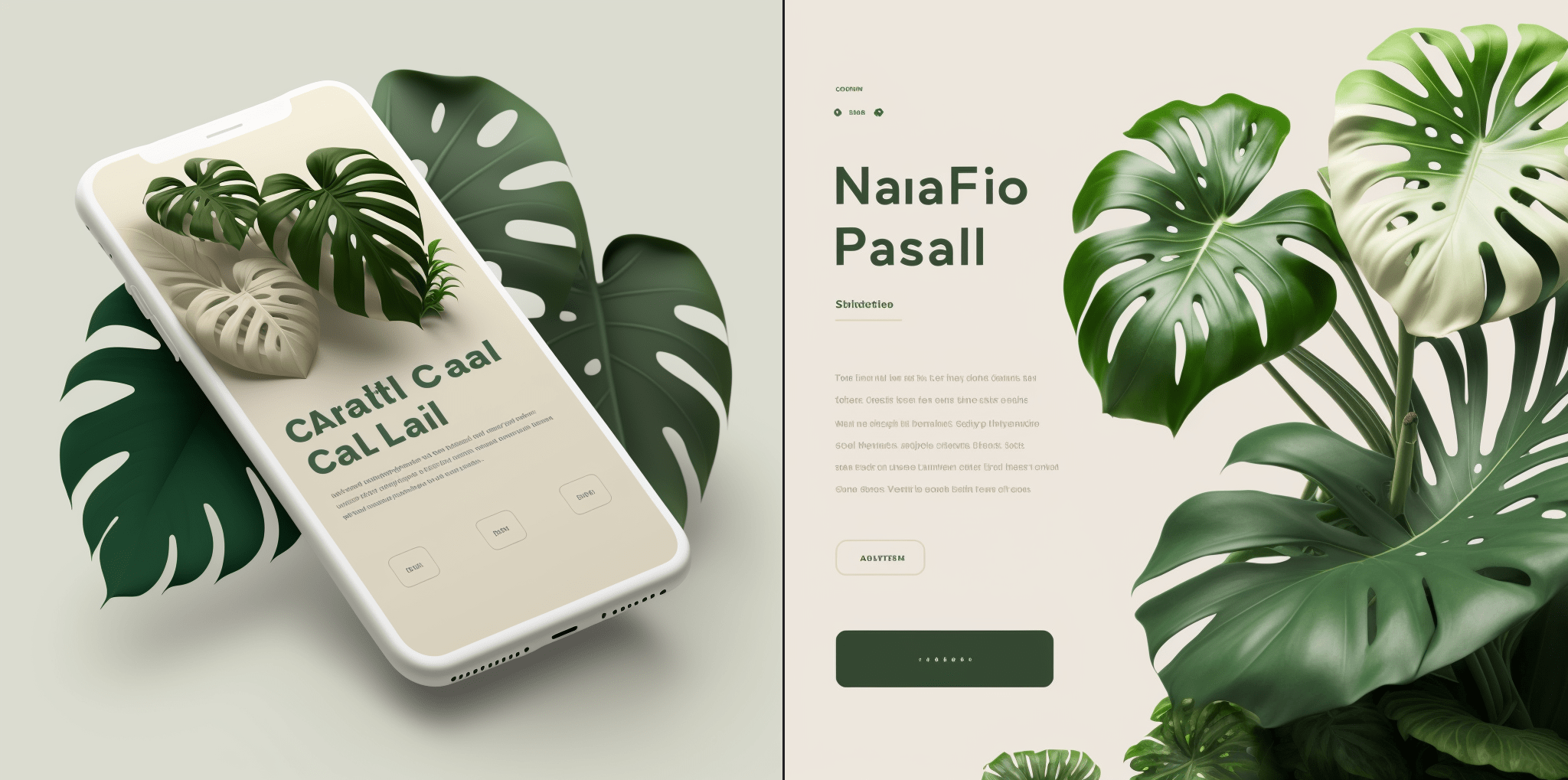 Equipped with everything that I might have needed I opened WebWave and started the final stage of my creative work. WebWave was great for recreating a layout from an image, because it's a drag and drop website builder, meaning I can position elements wherever I want. I didn't have to worry about fitting into tables or grids like in Wix or other website editors. The flexibility of my website builder lets me build the homepage quickly. All I had to do was put elements in the right place. I used pre-built elements like the menu and buttons but could modify them to my liking effortlessly. I copied all the text from ChatGPT and then just added images from Midjourney. In just a few clicks my ai-powered website was ready.
Is the AI website worth it?
Generally speaking, my experience with AI web design is positive. At a very low cost and saving lots of time, I manage to create a good-looking, modern website with unique designs. I didn't have to think about the copy or look for fitting images online or create them by myself. I want to once again emphasize how time-effective that is.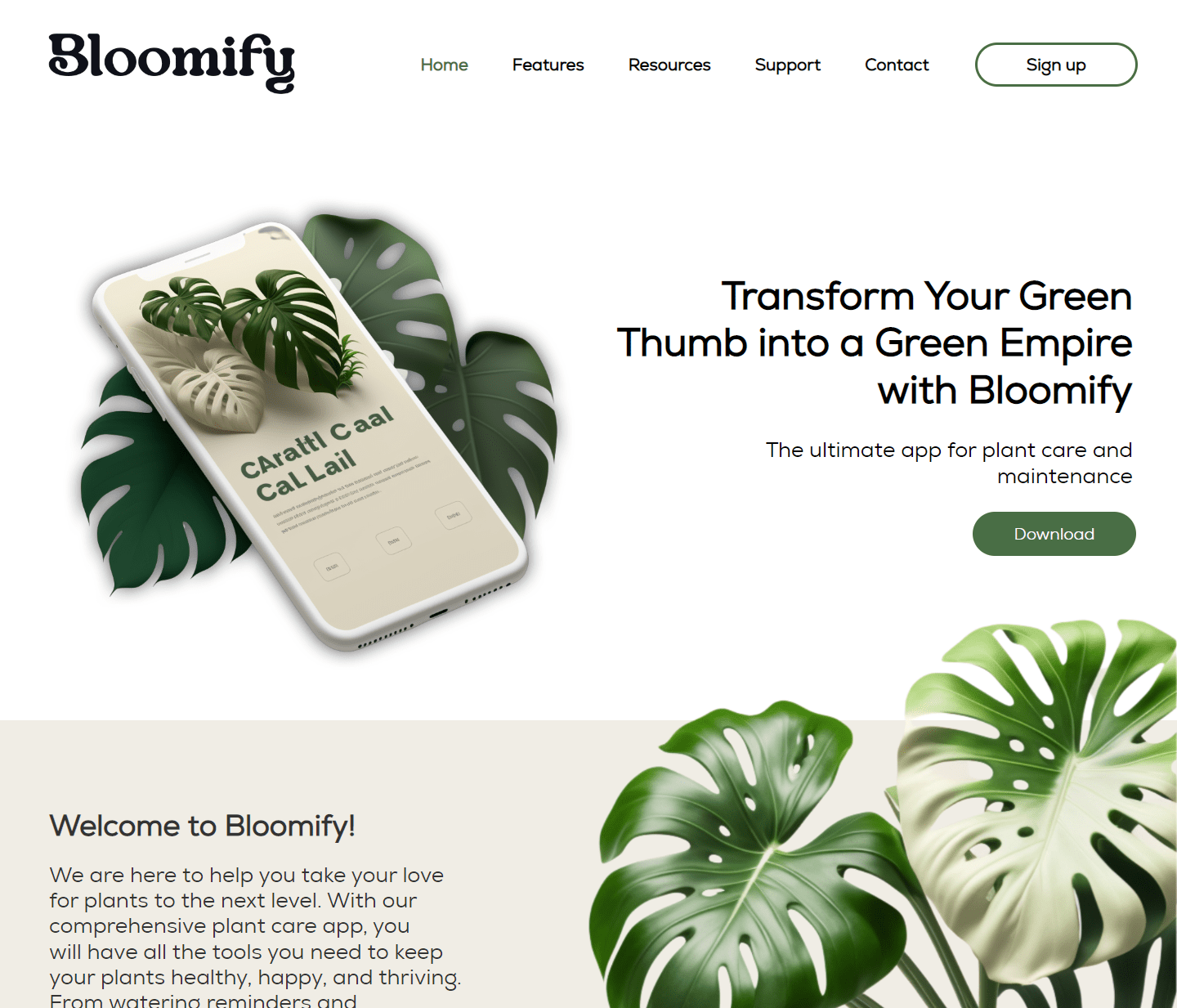 If you want to design and sell website templates, don't hesitate and start implementing AI solutions into your creative process. Work smart, not hard, and just use AI web design. You can also use artificial intelligence to improve your already existing website templates. It's worth giving it a try. 
Same thing, if you work in a digital agency or a marketing agency. In your case, ChatGPT seems to be especially helpful. It can accelerate your brainstorming process or help you deal with a creative block. Seeing how well it managed to create a content outline for a website, I imagine it might be as convenient for an article synopsis. It might change the way the content is produced. I haven't checked AI-generated text SEO performance. If it turns out to be good, I can see Chat GPT becoming an integral part of digital marketing.
If you create custom websites as a freelance web designer or as an agency, you can also implement artificial intelligence into your workflow. It might not be great for custom, specific designs, like ecommerce sites. Just look again at the smartphone image that I used in my project. It's not customized to my made-up app Bloomify. I was trying prompts that included the app name, but not surprisingly, I wasn't able to get this highly-personalized image. 
However, you can still use AI in the early stages of working with clients, to create prototypes. Because it will help you work faster, you will be able to build better relationships with clients and enhance the image of your brand. Your prototypes will look more professional and help you create a better user experience. A website with artificial intelligence is great to capture ideas that might be hard to imagine for clients. It builds website fundaments that you can later work on, personalize and also customize. AI tools might not be essential in your field, but have a lot of potential to be extremely beneficial. 
The main disadvantages I can see are in Midjourney. For now, those images still look rather fresh and new, but they definitely have a certain style. No matter what prompt you will type in, the image you will get looks like something created by AI. 
They are not very versatile and can soon look all the same. I am pretty positive that this tool will be developed and improved. In a few years will be able to generate even better stuff, but for now, it's not something groundbreaking aesthetically. In my opinion, AI art won't be the right fit for creating a custom website for a small business. It might fail at emulating anticipated online presence. 
Are AI tools going to replace web designers?
The answer is a firm no. Those tools are here to help and they will be great at doing it. They are not autonomic solutions that can create comprehensive creations. 
Web designers and artists in general create work that is original and has a specific context that makes it valuable. Even if Midjourney gives you unlimited variants of one image, it has no capability of making it truly significant. This factor is necessary to create something that will be speaking to people and will be able to connect with them. Maybe in the future, the human role in a creative process will be reduced to supervision, and AI tools will take over the execution. That's very much possible, especially in the world of digital art. But I'm not going to get carried away with my predictions. 
I don't think creators should look at AI tools as a threat. It's better to treat it as an opportunity to be better and more efficient. 
The factor of streamlining your work is the reason why AI website builders are becoming more popular. If you can do something in 2 minutes instead of 30, of course, you're going to take a shortcut. Web design and web development are constantly changing and now it's time to test AI in the process of building your website. We will see which solutions will stick with us.