Based on the technical analysis of the created pages, we can clearly state that the page made in WebWave wins. It is the best in terms of quality of generated code, page loading speed and size, and position in Google search results (SERP).
However, second and third places may raise some doubts. Page created in Wordpress has better code quality, is lighter, and loads much faster than the WIX site. The page made in WIX has ranked higher in Google search results. So which of these two tools is better suited to creating well-positioned pages? In our opinion it's Wordpress. The position in Google search results can be impacted by many independent factors. One external link or even average visit length on the page may have changed the order of the results. Such factors in the conditions created by us could prove crucial, but in the real world, they wouldn't matter much compared to the quality of the generated code.
When creating WebWave website creator, we always attach great importance to how projects created in our tool are positioned in Google. We were curious about the effects of our work in practice.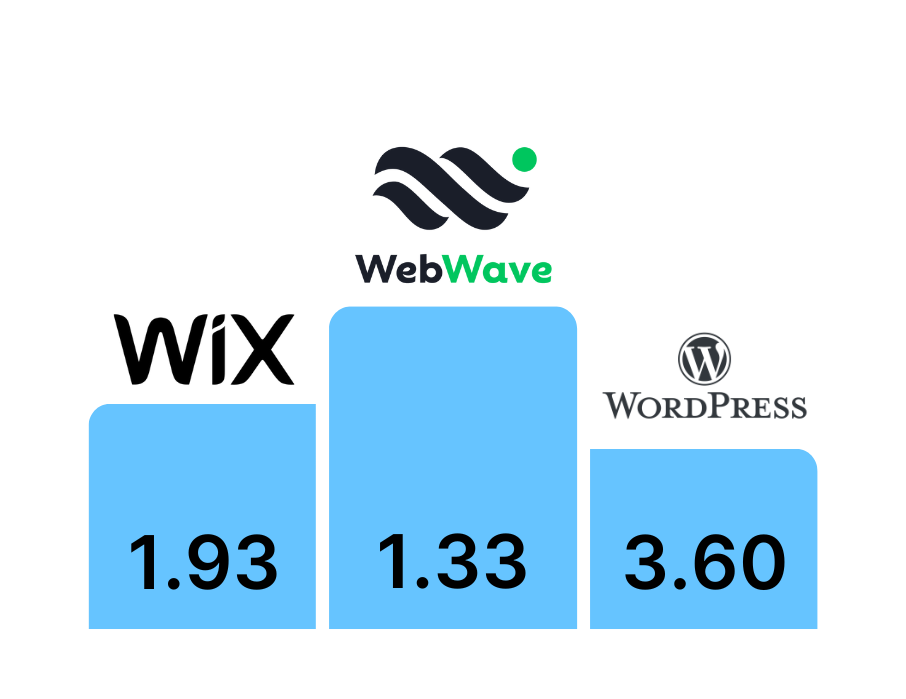 Best website builders for SEO in 2023
Great website is not possible without SEO optimization. How to build a website that is SEO compliant and user-friendly? The key is to choose the right site builder and SEO apps. Many claim that Wix is the best in terms of SEO efforts. I, however, believe that WebWave has much better potential, as our experiment also confirmed. It is important that the website builder has SEO plugins. In the case of our website builder, SEO Analyzer can be considered such a tool, like Yoast SEO, with which you will perform a free audit of your site. Adapting to Google search ranking will allow you to create popular website. Bet on basic tools, like Google Search Console or Google Analytics. But don't forget that the better the optimization, the higher your site will rank. Advanced SEO tools such as Neuron Writer, Semstorm, Semrush, Ahrefs and many others will help you with basic SEO optimization. 
 
Advanced SEO Website Builder - Important Features to Optimize your Site
As a result of the study, we not only proved that positioning of pages created in s is both possible and very effective. Thanks to it, we have introduced a number of new features to our application that are sure to help you achieve higher positions in search results. Here are some of the features we've added. PWA We have introduced the capabilities of the PWA application to pages created in WebWave. What is it? A Progressive Web App is a web application that uses modern web capabilities to provide users with an experience similar to a dedicated mobile app. These apps must meet certain requirements, are deployed on servers, accessed via URLs and indexed by search engines. As you know, Google looks with a favorable eye on such an option, and thus we can raise the position of our site with the mere introduction of such an option. In Lighthouse reports, this is one of the 5 points that the Mountain View giant checks.
 
WebP 
Also some time ago, we added automatic conversion of image files to WebP format. This is an image file format created to replace older formats such as JPEG, PNG and GIF. It was developed by Google based on the work of On2 Technologies, which, incidentally, was later bought out by them. This technology is designed to reduce the size of images. Thanks to it, page loading can be significantly shortened, and as a result, positions in search results will go up. 
 
Technology to speed up page loading 
The survey allowed us to draw attention to a particularly important aspect related to SEO - page loading time. Thanks to our efforts and many lines of code, we can confidently say that we have made many improvements that allow pages published in WebWave to show up faster. Here are some of them.  
 
Loading lower quality images first 
When loading a page, a lower-quality image (in the form of a rendered thumbnail) is loaded first, and only later in its target appearance. Thanks to this functionality, we gain a reduction in the amount of transfer that is needed to load the page in the first view. 
 
Improved image compression 
When an image is uploaded to the , it is optimized for fast loading and converted to WebP already during publication. This is convenient for the user, as you don't have to make changes to the uploaded graphic material yourself, and the will take care of the proper preparation of the files. 
 
Loading JavaScript code at the end (asynchronously) 
The JavaScript code is loaded at the end of the page loading, so as not to delay the showing of other elements. The site responds faster to user queries, and there is no "white page" effect." 
 
Dynamic image loading (LazyLoad) 
The image dynamically recharges as the page scrolls. This has the effect of reducing the transfer needed to load the first view of the page. 
 
Improved image conversion 
For each RWD mode, images are cropped independently. As a result, smaller images will load on mobile devices, while larger ones will load on computers and laptops.
 
SEO best practices
Wix and Squarespace have their advantages. They are website builders, so positioning pages created with them will also bring results. However, you won't find the ability to create your own SEO analysis and proprietary tools for this. Our SEO Analyzer has a huge range of SEO for your website. 
 
SEO Features
In your SEO strategy, it should be possible to integrate google analytics. It's a huge tool for analyzing and collecting data about your site. In WebWave, this integration is fast and seamless, so anyone can handle it. 
 
WebWave SEO Tool 
WebWave has its own seo analysis tool - SEO Analyzer. This is a huge convenience, especially for novice users. With it you can easily check if your site is SEO friendly. In 2023, this is very important because google robots pay a lot of attention to how the site looks, what it has, and whether it is user-friendly. With us, you can do the Search Engine Optimization analysis yourself in our tool. I think that WebWave is the best SEO website builder!
 
As you can see, the pages created in website builders can be high in Google Search Engine ranking. They can even achieve a better result than pages created in WordPress. Building websites with the use of website creators do not interfere with SEO. At the same time, it significantly speeds up and streamlines the process of creating and maintaining the site. Professional website built in WebWave wins in the race for top positions in search results. All you have to do is create an SEO checklist and act according to white-hat SEO.