Schedule of activities for Black Friday
First, you should plan your activities early. The end of October is a good time for small businesses that want to run a small marketing campaign. 
Even a simple schedule should include several elements:
Careful planning of tasks is the key to success. It may sound cliché, but it gets results. 
A different look for the website 
It's a good idea to include Black Friday-related elements on your online store's website. Thanks to this, users will see at first glance that they can count on a special offer. 
Banner 
You can place a banner ad at the top of the page to inform people about the promotion. In this place focuses the eyes of a person who visits the store. This way, the user will notice at first glance that he can count on a special offer. 
Colors
Black is a neutral color. Therefore, it is easy to incorporate it into the design of the page and use it in several elements. For example, you can use it in buttons or a background photo. However, moderation is also very important. The temporary version of the shop window should not differ too much from the standard one - it should still remain easily recognizable. Don't go too far and change your logo. 
List of products covered by the promotion
If you offer discounted prices for some of your products, you should highlight them on the homepage - then it will be much easier for potential customers to find them. 
Countdown clock to end of promotion
On the shop's website it is good to reserve space for a countdown clock counting down to the end of the promotion. This way we indicate that the offer is limited in time and thus encourage users to make a purchase decision sooner. 
Product subpages
Apart from the information on the home page, we must also remember to edit the product cards. We put there information about new prices - it is best to emphasize the change by crossing out the old one and adding a new one.  
Simplifying the ordering process
In a Black Friday campaign, time is of the essence. Customers do not want to waste it on paying for their orders. That's why it's good to provide them with familiar, easy-to-use, safe and, above all, fast payment methods. 
Mailing
Email marketing is still an effective method of acquiring customers today. If we run an online store, we certainly have a database of addresses. Let's use it to run a campaign. 
However, we must remember that probably all players on the market will fight for the attention of recipients. Therefore, emails need to be prepared with due care.
What elements should your Black Friday messaging have?
a catchy topic in which we offer a concrete benefit

clear and well exposed CTA or call to action (for example "buy now" button)

Exploiting a sense of urgency (e.g., by including the promotion end date and time in the message).
A popular practice is to send several messages to one recipient. Keep in mind, however, that such behavior can sometimes seem too pushy and have the opposite effect to that previously intended. 
Promotion on social media
Social media profiles are a great platform to communicate with your audience during Black Friday. Therefore, it is worth preparing posts in which we will inform about our offer. If it is beneficial and original enough, we will have a chance to reach a wider audience by sharing it. 
The moment we can afford it, we should obviously opt for promoted posts as well. 
Groups and discount sites
There are many websites and groups on the Internet dedicated to discounts and promotions. Placing information about the offer there is usually free. The advantage of such places is that they attract users who are already initially interested in the purchase. Now we have to make them use our services. 
In addition to discount pages, we can also post Black Friday deals on themed groups - ones that relate to our business. 
Ensuring that mobile tools are included
We already know that Black Friday is not just about stationary shopping, quite the opposite. Those in online form are more popular. 
When running a website, make sure that it is responsive. This way, users can comfortably browse your offerings, from their smartphone or tablet, for example. This may seem like a subordinate need, but more and more people are using mobile devices and completing their purchases "on the go".  An example of how important it is to include RWD is Empik's sales results during Black Friday in 2019.  It recorded a very large increase during this time, and the majority of orders were just placed via phones. 
Stock of assortment 
This may not be related to the Black Friday campaign, but it has a direct impact on profits. Since the number of orders placed is much higher during this time, you should take care to stock up on products-especially those that are projected to be in the highest demand, such as video games. This applies, of course, to the material offer. In the case of services, on the other hand, we need to calculate the possibility of delivering them in a given time. Interestingly, Black Friday itself was initially supposed to be used to clear out warehouses before filling them up again for Christmas. However, the opposite is now true.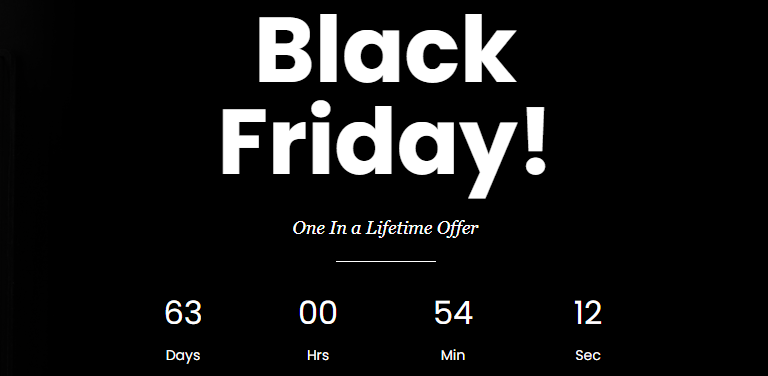 What to pay attention to when creating communication for Black Friday
It's easy to make mistakes when creating a marketing campaign. What should you watch out for?
Consistency of the message
Regardless of the communication channel, it should be identical. So it is important to keep the consistency of promises, slogans or graphics. Thanks to this customers will remember us easier. 
Appropriate time frame
Online campaigns for Black Friday rarely last just one day. Some companies choose to start the promotion up to 7 days in advance. Most often, the promotion lasts through the entire weekend. Cyber Monday, discussed earlier, has also become a standard in the electronics industry. 
Attractiveness of the offer 
The proposals of companies for Black Friday are very attractive from the customer's point of view. Most often the discounts amount to several dozen percent. 
When preparing an offer, you should take care that it does not stand out from the competition. On the contrary, it is worth finding something that stands out. A marginal discount is unlikely to impress anyone. It should be particularly attractive and beneficial for the client (but still profitable for us as well). If we can't afford a big discount, it's worth considering adding additional benefits to the offer, like free delivery or freebies when buying more products. 
Creating a sense of urgency/need
Although Black Friday promotions last up to an entire week, their effectiveness is based on creating a sense of urgency. So let's inform our current and potential users about when the promotion ends. A countdown clock can play an important role here - not only on your website, but also in your emails, for example.

A website as a creative gift idea? 
A website, be it a standard one or one in the form of a shop is a rather unconventional idea for a Christmas present, but is it a bad one? No...at least not in the case of people who actually thought about having their own website, setting up an online store (e.g. with their own products) or just like to write - maybe a blog will be for them a good escape from everyday life or a place where they can share their passion. 
In doing so, we will take the first step for that person in their journey of growth and accomplishment. 
Summary
Black Friday is a perfect time for shopping, which will not deplete our wallets so drastically. So it's worth knowing what to look out for during this time. 
Besides, this period offers great chances to increase profits from your business. Creating an effective Black Friday campaign does not have to involve large costs. If you run an online store, you can use many free communication channels. Let's also take care of the website design, quick payments, mailings and promotions in social media and on websites informing about discounts. In this way you will reach new customers and encourage undecided ones to make a final decision without spending a fortune.