WebWave simplicity
In our web design software, you don't have to look into the website code. If you want to edit website style - you do it directly in the software, seeing how changes look like when you manually move elements.  All of this is possible thanks to the drag&drop method. There is no need for you to understand the website code to change elements alignment. Simply grab them with your mouse and move wherever you want to.
Creating Blog Articles in WebWave
Thanks to drag&drop you can build perfect articles in WebWave. With news templates, your blog posts will never accidentally differ from one another. Creating a blog has never been so easy. In an article template, you can set elements alignment and when editing a post all you need to do is fill it with content. What does it mean? After publication, you can be sure that each element is exactly where you placed it. 
How to build a professional newsfeed?
Do you wonder how to create a newsfeed like the one in WebWave? Meet our comprehensive guide!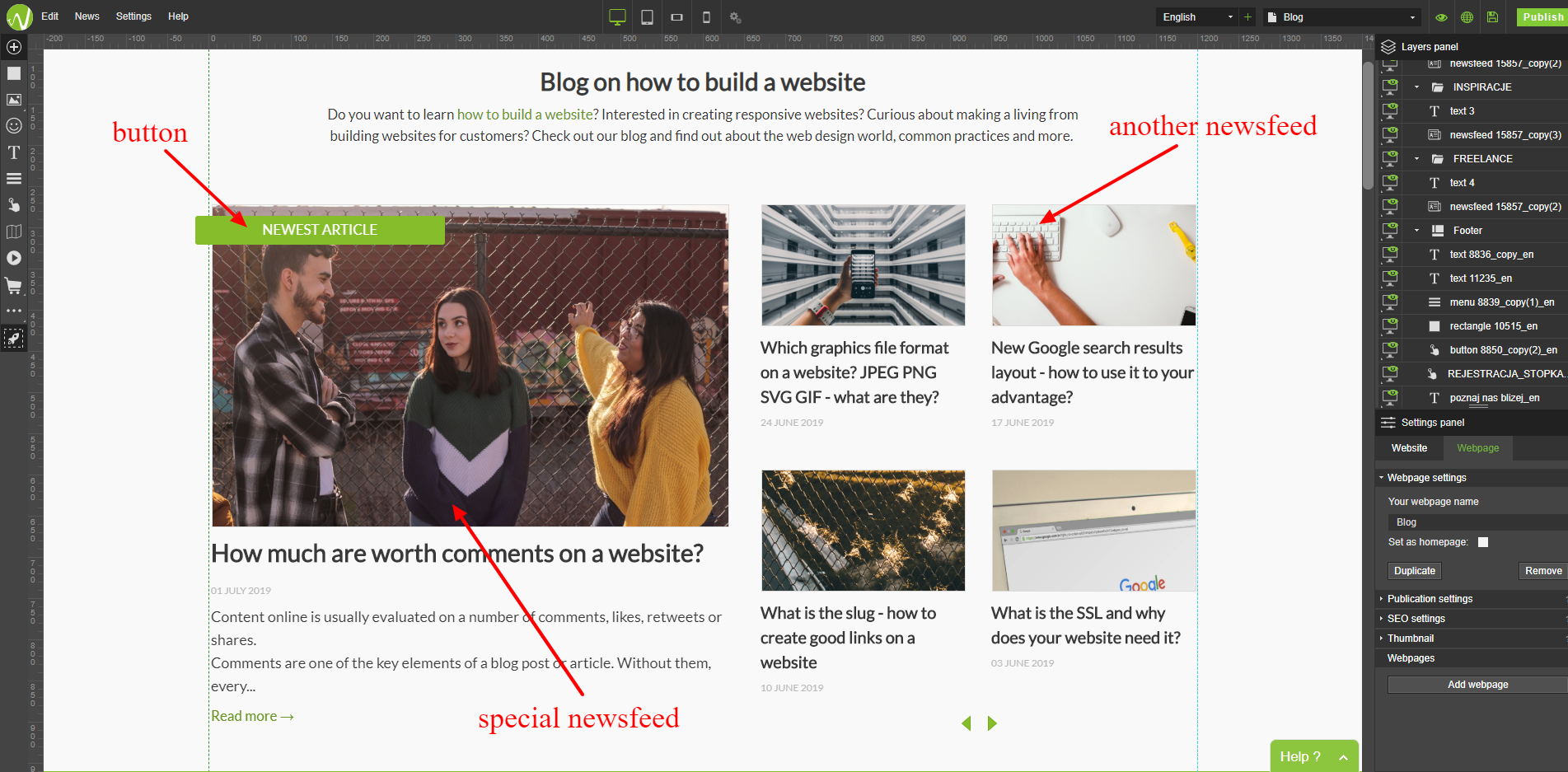 What's important is to understand which elements contain our Blog subpage.
The special newsfeed is created to show only one, the most recent article. Every new post is added to category "new", which makes it visible in the special newsfeed.
Another newsfeed is the second element, placed on the right side of the blog. Every time we publish a new post, the previous article changes its category from "new" to "recent". Thanks to this procedure, the newest post is displayed in the newsfeed on the left, while the other, later one on the right. 
Button style has been edited and deprived of click action.
Let's start with basics - the sturdy base of creating newsfeed are articles categories. You can create a category by entering a News section in the menu at the top of the builder and selecting Categories. 
After adding new categories go once more to News and enter News manager. In the new window, select a triangle next to a post and add a category to it.
You can read more instructions on how to operate on articles categories in Knowledge Base.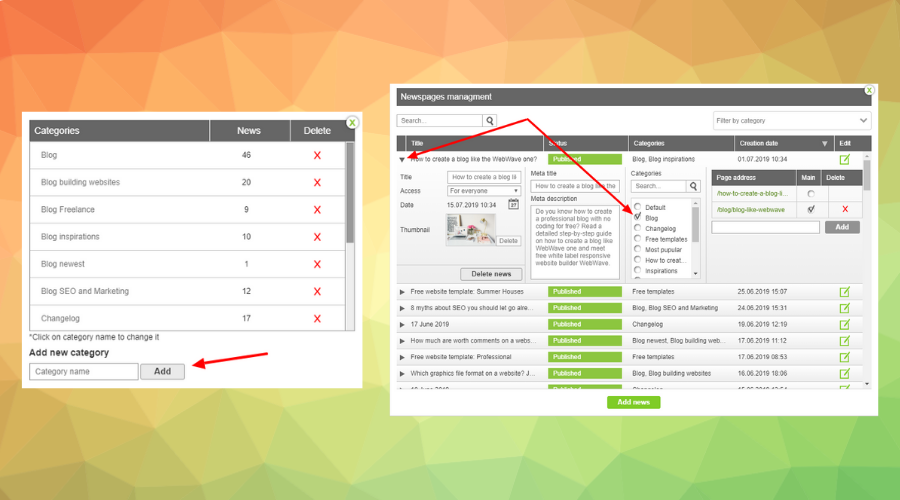 WebWave newsfeed structure
Read a comprehensive guide article on Newsfeed element in WebWave.
To place newsfeed element on a website created in WebWave, select from the toolbar on the left side of the builder three dots icon and then the second one - Newsfeed. Drag and drop it to your website. 
Now click on the newsfeed element and in the Settings Panel select Newsfeed settings.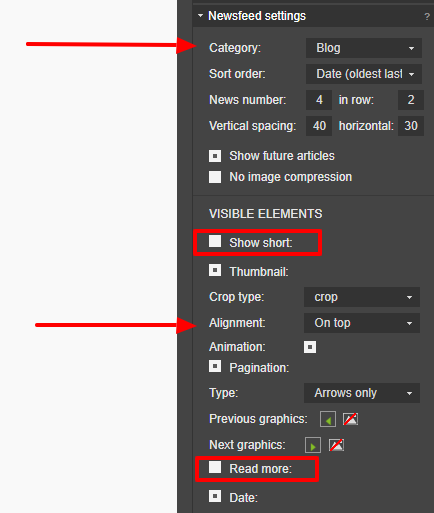 Do you want to have the exact same layout we do on the Blog? Change newsfeed settings accordingly to the image. 
Set category to for example Previous;

Make sure to untick the box next to Show sort;

Change thumbnail alignment to On top;

Untick the box next to Read more;
When you copy newsfeed settings, it should look like the WebWave right one. 
To build the left newsfeed, place one more newsfeed element on your website. 
This time in the settings you need to change Category to the category you want to promote (for example New), set alignment to On top and untick pagination.  Place element just like we did and voila!
To add a green label Newest post select from the toolbar button icon. Adjust element style and place it on top of the newsfeed in the layers panel. 
Have any doubts? Take a look at the guide article on the button element.
Why is it worth to create a blog?
If you are still not convinced that writing content on your website is worth the time, let me remind you of the 2019 blogging statistics. I mentioned there about blogging statistics, which claim that creating content on a website improves positioning in Google up to 400%!
You don't feel confident enough to write content that will satisfy both Google robots and your readers? Make sure to read article on web writing and SEO.  
Creating content on a website improves website positioning in Google up to 400%!
Profesional style at your fingertips
You see for yourself that you don't have to code or contract out webmasters to build an amazing blog on your own. All you need is a bit of creativity and a free afternoon. To read more articles on how to build a website in WebWave take a look at Knowledge Base or YouTube. Personally, I believe that practice makes perfect - so jump into the website builder and see for yourself how easy creating a blog in WebWave is. Did I mention it's free?