If you use Google on a mobile phone, you probably know what this article will be about, but you might not be aware that this is Google Discover. So, what is it?
It's a list of information and news, that appear in the application under the search bar. They are related to your hobbies, work, and previous Google searches. 
What's interesting, Google Discover is not new functionality - it is live for a long time but it was called Google Feed. What's with the change of name and introducing new, useful additions? Does it mean we will have to optimize articles on our websites? What does Google have to say about it?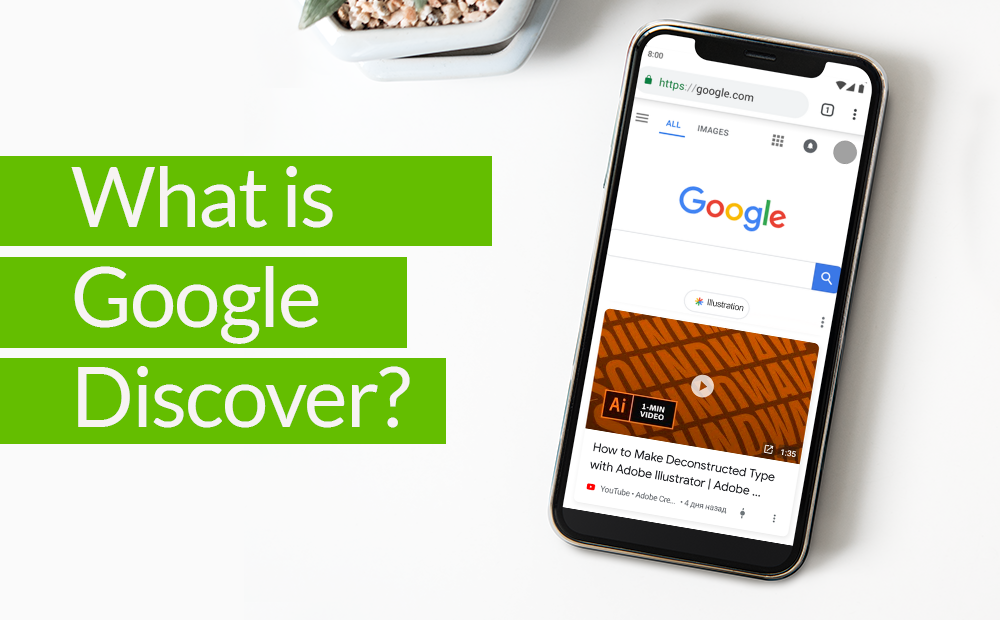 What is Google Discover?
In the second half of the previous year, Mountain View giant decided to refresh the way it displays news on mobile devices. As all the trends nowadays, this one is also focused on adjusting to each user's personal needs. 
The mobile application shows users content, that might interest them and they might want to read more about. You can think of it as a wall on Facebook - a bunch of news that is personalized and compatible with user's inclinations. Information can be displayed as videos, images, events, articles, etc. 
Google claims that over 800 million people per month use the app. If it is that popular, will it influence website positioning?  Keep reading!
How does Google know what content interests me?
Google Discover is an alternative to stay up to date with your interests, without surfing the net. You can set your hobbies in the app or artificial intelligence will track your habits and recognize your interests basing on your search history in order to deliver the most accurate news. 
What's more, Discover can download information about you from other applications as long as you are logged in with the Google account - where you are thanks to Google Maps, what time is your appointment thanks to the Calendar, etc. 
Join over 180 000 people who build websites with no coding for free
Website builder WebWave allows you to build free websites with no coding for free. Start from scratch with a blank page or use one of many free templates.

BUILD YOUR WEBSITE FOR FREE
Is content from my website displayed in Google Discover?
Probably, yes. 
Before you get all excited, you should make sure that your site fulfils all the required conditions to be discovered by Google. A website needs to be verified and indexed in Google Search Console, content should meet Google News standards. You can read more about them on the official Google site. 
The content displayed in Google Feed was usually about the news and trends. 
In Google Discover, however, evergreen content is the main source of information. 
What is evergreen content?
Evergreen content is like trees, which never lose their leaves - always awaken viewers interest. 
This kind of content should be detected and regularly promoted on a website. One, well-written article can continue to generate as much traffic as just after the publication and it's your goal to take advantage of it. Update it, add new information, use content from it when creating new materials and more. 
When life gives you lemons (or evergreen content), you need to make as much lemonade from it as you can :).
What's the newest functionality - Topic Layer?
On the official blog, Google announced that the newest functionality - topic layer - will be able to predict users knowledge on a specific topic and help them learn more about it.
How will it work? I suppose if you want to learn how to paint and google a guide for beginners, the Discover will start showing other guides on how to add colors or which paintbrushes are the best. 
Sounds very innovative, I can't wait to see it work. 
Google claims that over 800 million people per month use the Google application
How to be displayed by Google Discover?
As I mentioned before, as long as you play by the rules and create valuable content (ideally evergreen content), there is a great chance somebody will wake up in the morning and start a day by reading an article on your website thanks to the Google Discover.
If you want to improve your chances, there are a few other aspects you can take care of.  
Original images
I have noticed that original images, not form the stock, can improve your chances to show up in Google Discover. Every article displayed there have a unique title and a thumbnail. That's why the original image is a must-have of every news published on a website. 
Additionally, Google points out that users receive above all fresh visual content, which becomes more important than the text.
This is the reason why easy on the eye content and the original thumbnails will greatly improve your chances to appear in Google Discover. 
Mobile-friendliness
Google Discover works on the mobile application only. 
Last year, Google introduced the mobile-first indexing. 
If your website is not adjusted to smartphones, you don't stand a chance to show up in Google Discover.
Did you know that over 50% of traffic generated online come from mobile devices?  
Google expects websites for the XXI century 
They have to be responsive, rich in valuable content with unique visual qualities. It's no longer about "who puts the biggest amount of keywords in an article". 
At this moment, webmasters who dedicate time to prepare their sites to meet Discover conditions are the ones who get rewarded. Google appreciates when you care about the users.
Of course, in WebWave free website builder you can easily adjust your website created with no coding to Google Discover requirements. Creating a responsive, SEO friendly website with unique articles has never been so simple. 
Don't wait up for other webmasters to catch up with you. You have it all on a silver platter.
n 
Make sure to read articles below:
Authors: Julia Madraszewska & Weronika Wawrzyniak