In the next part of our conversations with WebWave employees, we present the details of the Frontend Developer work - what does he do, what studies or courses should be completed to get to this position, do bootcamps give anything? What is the market like and what the entry looks like? We will answer these and other questions in today's interview with Sławomir Woźniak - Frontend Developer at WebWave.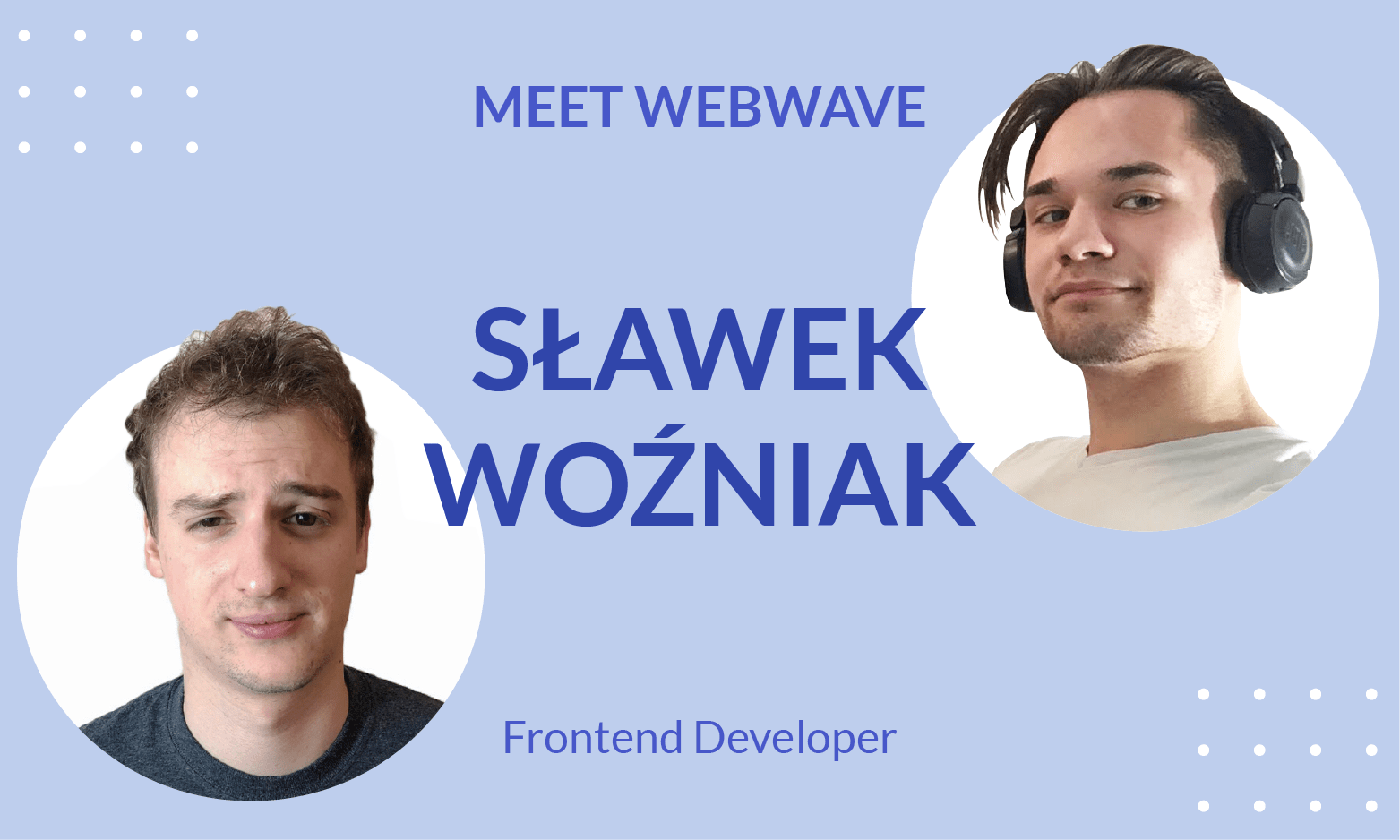 What is Frontend and what is Backend? 
What is the difference between Frontend and Backend? The first is the field of programming that deals with the part of the application visible to the user. Backend, in turn, is work on the server side and with data. However, Web Developers dealing with both fields cooperate closely on a daily basis.
What is the way to become a Frontend Developer
Our today's interlocutor has been interested in programming since junior high school, math and logic have never been a problem for him. Therefore, he began to start in this field of computer science. At the beginning, like everyone who found new interest, Sławek did a decent research on the internet. He also watched tutorials and developed on his own. 
Already in his school years, he created a game for him and his friends. In those days, however, he was a hobbyist when it came to programming. It wasn't until high school that he took it seriously. Currently, he no longer needs any courses - he only gains knowledge, experience and practice at work. 
He spends his free time on hobbies such as the gym. He considers solving problems that are not obvious and require a lot of effort and commitment as the most difficult in his work. 
Sławek has only been working at WebWave for a year, but his experience in working as a Frontend Developer extends beyond our company. He owes what he is today to self-study and hours of practice in programming. His path as a programmer allowed him to gain knowledge that he will now gladly share with beginners.
Join over 346 000 people who build websites with no coding for free
Website builder WebWave allows you to build free websites with no coding for free. Start from scratch with a blank page or use one of many free templates.

BUILD YOUR OWN WEBSITE FOR FREE 
What should I know before applying for the position of Junior Frontend Developer
What programming languages should Junior learn?
According to Sławek, the most accessible languages for Junior Developer are: HTML, CSS and JavaScript. He himself, however, started with C ++. 
Programming instruction,
What about studies? Are they useful for a programmer's work? Sławek did not study himself, but he thinks it is good to get to know the theory of computer science, which is widely discussed at universities. However, it is more important to work independently. 
What is the job market like for programmers?
As you know, the job market for programmers is large. However, a lot depends on experience. It's hard for juniors to get their first job, but after a year or two at this career level, you can reach mid-level. Then it is much easier to find a job, in addition very well paid. Web Developers are also very popular on Linkedin, although not every offer is well prepared - so it's worth being careful. 
First portfolio and recruitment interviews
When it comes to a developer portfolio, it's best to tackle the underlying projects and put them in a repository like GitHub. However, people with experience do not need a portfolio anymore. Then employers ask about solutions to problems, what is our experience, what technologies we use, what team we worked in, etc. 
Advice for the new programmer
Sławek's golden advice for beginner Web Developers: it's worth focusing on practice, doing a lot on your own. We don't need to know everything by heart, it is important to understand what we are doing. The rest can be found on the internet, for example. 
It's worth focusing on practice, doing a lot on your own. We don't need to know everything by heart, it is important to understand what we are doing. The rest can be found on the internet, for example.
What does a Web Developer work like?
WebWave programmers work in the Scrum methodology. They set the work in weekly sprints, i.e. every Monday they assign tasks for the current week and assign to them responsible people who will solve these problems. Our Web Developers mainly work on two types of tasks: styling and handling data. As a rule, they use Visual Studio and IntelliJ IDEA. 
If you are curious about your IT background, we assure you - colleagues from the IT department send each other memes ... in mass quantities!
Summary 
The work of a Junior Frontend Developer can be a dream come true - with time it provides very good earnings and great development opportunities. So it's worth spending time learning and trying to do as much as possible on your own. 
Make sure to read the following articles:
Authors: Natalia Czaplicka, Bartosz Zalipski