When to start a blog?
As you can see, creating a blog is not difficult. That is why it is one of the most popular forms of presence on the Internet. The ease of entering the world of blogging means that many people decide to start this type of activity.
Undoubtedly, it is worth trying blogging. Even if you don't reach millions of readers and don't achieve spectacular financial success, blogging can become an important part of your life.
If you are interested in a given topic and know that there are other people who share your passion, running a blog is an ideal way to reach recipients and make interesting acquaintances.
Writing allows you to expand your knowledge and pass it on to others with similar interests. A well-run blog can become a platform that brings together enthusiasts or specialists in a given field
Reasons to start blogging 
Creating a blog is a great way to spend your free time, a chance to earn, as well as the opportunity to promote the brand or build an image of an expert.
Sharing passion
Writing about things that fascinate you is a pleasure in itself. It allows you to expand your knowledge and pass it on to others with similar interests. A well-run blog can become a platform that brings together enthusiasts or specialists in a given field.
Promotion of the brand or own image
If you run a business or even a sole proprietorship, consider the blog as a form of promotion. Publishing the content that potential customers are looking for will help in obtaining it.
If you're a specialist, running a blog will be useful in building your image. Valuable texts will be commented and made available by other experts and journalists.
The opportunity to earn money from ads and sponsored entries
Popular blogs attract advertisers. It's not just about the greatest authors with millions of readers. In the case of niche blogs, even much smaller coverage can translate into real money.
Advertisers who want to reach a very specific audience often use independent blogs to publish sponsored entries.
Another way to monetize your blog is to place ads on it. Currently, the most popular platform used for this purpose is Google AdSense. Many blogging tools allow you to place an .adtxt file that allows you to monetize the displayed ads.
How to set up a blog? Tutorial
You already know that you can set up a blog and why you can do it. In this part, we'll cover the technical aspects of this task. See for yourself that it is not difficult or time consuming.
Choosing a domain
Domain is the name of the website. It will identify the blog, so it's good to spend some time choosing it. Most often it will also be the title of your blog. Make sure that it is easy to remember and save, original and associated with the topic you raised. You can read about how to create a domain that will attract users here.
Which platform should you choose?
The choice of platform on which you describe your blog will determine how you work on it. In this part, we will briefly discuss some of the most interesting solutions.
Blogger - start here
Blogger is a free tool created by Google in 1999. It is on this platform that blogs with the free domain .blogspot.com are created. Only a dozen or so years ago you could find a lot of pages created in Blogger on the web. However, this tool has lost its popularity in favor of more flexible solutions.
Wordpress
It is currently the most popular tool for creating blogs. There you can find thousands of free and paid templates prepared for specific types of websites - including blogs. Using Wordpress is free.
There are many extras that make it easy to create a blog. You can choose from plenty of plugins used to optimize content for SEO.
Basic Wordpress functions, such as choosing a template or adding an article, are easy to use. Problems start when you want to customize the selected template to your preferences. Then it becomes necessary to be able to code and spend many hours making changes, which in practice are not always beneficial.
WebWave
WebWave is a website creator that offers many tools useful for bloggers. You can use a dedicated template. The tool gives virtually unlimited possibilities for easy template editing. Thanks to this, each user can easily and quickly adapt it to personal preferences. WebWave also allows you to create a blog page from scratch according to your own idea.
The biggest advantage of this tool is the fact that using it does not require coding both when creating on the template and working on your own project.
WebWave allows you to easily create entries or list of articles and add texts to many categories at the same time. Therefore, it works great as a blog creation tool.
Blog Hosting
A blog like any website consists of files containing data. You must find a place - a server, where they will be stored. This service is called hosting. When choosing a specific offer, you need to pay attention to several parameters.
Capacity is the amount of server space reserved for your files. For blogs, it usually doesn't have to exceed 10 GB.
Data transfer to users. It's about is how many people will be able to enter your blog monthly. It's best to choose an unlimited transfer offer.
Backup, i.e. the ability to restore a backup of a page that should be stored in a place independent of the server.
Sounds complicated? Fortunately, most popular blogging tools offer hosting. This is a good solution especially for beginners who do not want to delve into technical issues related to server selection. It's good if the platform allows you to put the page and create a mailbox under your own domain. WebWave offers such a function as well.
How to run a blog to make it grow in popularity?
To develop a blog, you need to be patient. Breaking through the thicket of content requires regularity and consistency. If you are really interested in the topic of your blog, working on the texts will please you. Then all you need to do is organize your work well.
Ideally, the content will be published more or less at regular intervals. How often? There is no definite answer to this question. It all depends on the complexity of the articles, their length and the time you can spend creating them.
Many specialists believe that entries should appear at least 3 times a week. More important than quantity, however, is quality and it is better to limit yourself to one good article per week than to publish content that will not interest users.
Try to prepare a publication plan. Write in advance so that in case of any problems (for example, illness or a multitude of tasks), you should have the text ready to be published.
Listen to your target audience. Follow online forums or Facebook groups. Respond to comments and draw inspiration for subsequent entries.
Just keep an eye out tomorrow. Follow the news and watch the competition. This will make your blog a valuable source of information.
Remember that practice makes perfect. By writing often and regularly, you will develop a good style that will make your posts not only understandable by users but also enjoyable to read.
How to promote a blog on the web
Creating a good blog is not everything. You must present it to the world. Even the best content won't become popular if you don't show it to the world. How to do it?
If the topic of your blog is close to you (certainly it is, since you write about it), then you are probably already part of the community of potential recipients. Promote your blog on social media forums and groups. Valuable content will be read and shared by users.
You can also opt for a paid promotion through ads on Facebook or on Google. By directing an entry to the appropriate target group you will gain new recipients.
Do not forget about "offline" activities. Look for events organized for bloggers in your area. Create a network of contacts at thematic meetings where you will find your target group. Do you run a blog about RPGs? Visit fan conventions. Do you write about trains? Go to the railway fair!
FAQs (Frequently Asked Questions)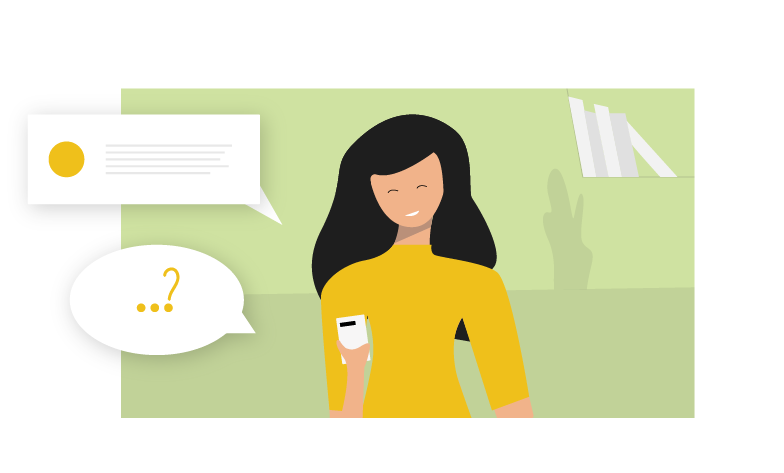 You already know the basics of blogging. You know how to write and publish content and promote a blog on the internet. If you are not 100% sure that blogging is for you, read the answers to frequently asked questions.
Blog or YouTube channel?
Video content enjoys unflagging popularity. YouTube is the best known platform for posting this type of material. The best you-tubers are now real stars.
Is YouTube competing with traditional blogs? Not really. Whether you're writing or recording videos - you're the content creator. It's worth publishing them in many channels. That's why YouTube is not an alternative, but a great complement to your blog.
Podcasts as a form of blog entries
Podcasts, i.e. audio recordings, are another form in which you can dress your content. The popularity of streaming services such as Spotify or Tidal makes them an ideal place for publication.
Audio content is gaining popularity. Since 2018, the number of queries related to podcasts is greater than that related to blogs. As with YouTube, however, both options should not be considered mutually exclusive. Blog content can also be shared in audio format.
Can you blog on social media? Facebook and Instagram
Facebook already in 2006 released the notes function, which allows the publication of longer posts. This option, however, did not meet with positive feedback from users and did not gain popularity.
However, it has several advantages. First of all, Facebook content is quickly indexed by Google, and thus makes it easier to reach users. Secondly, they help redirect traffic to your profile and can complement traditional blog entries. Third, unlike statuses, Facebook notes entries are not limited to 420 characters, so you can include more information in them.
On the other hand, setting up your own blog is technically so simple that limiting yourself to posting on Facebook does not make sense. Mark Zuckerberg's portal has many restrictions. It does not allow publishing under your own domain, changing the graphic appearance of the profile or adding webpages.
Instagram, in turn, is primarily a platform for the presentation of graphic content. Some users of the application decide to place longer entries, but it is difficult in this way to attract the attention of recipients who expect primarily photos, not extensive texts.
In addition, technical possibilities are even more limited here. Photo captions can have a maximum of 2200 characters, it is not possible to create post categories or list of articles.
Instagram is a useful tool in promoting the blog. By adding relevant hashtags and attractive graphics, you can reach new users with content.
When is it not profitable to start a blog?
So far, we've dealt with the positives of blog creation. Are there situations where you shouldn't go on writing on the internet?
Blogging takes time. If you are a busy person that you can't save a few hours a month that will allow you to create at least one entry, think about whether in your case it is worth starting a blog.
It should be mentioned that setting up and running a blog does not involve any risk and even if you fail to focus on it in the long run, it's worth a try.
Conclusion - on starting a blog
You already know how to set up and run a blog. As you can see, it is not difficult. All you need is basic computer skills and interest in the subject. You don't have to have any exceptional writing talent or experience. Choosing the right platform will allow you to work easily and pleasantly. Blogging can become a passion for you, a way of promotion, and even a way to earn.
That's why you can do nothing but start your blogging adventure. If you create engaging content, publish regularly and take care of promotion, you have a good chance of success. It is possible that you will have to wait for the effects, but certainly, the game is worth the candle.
So don't wait and start writing today! To do this, you can use the WebWave website creator. Choose an easy template or create your blog from scratch to make it look exactly the way you want!