Automation of marketing activities on Facebook
Facebook offers many useful options for automating marketing activities. The basic tool used for this is Facebook Pixel, which examines the activities of users on the site.
Information from pixel allows you to, among others, reach new recipients. Facebook's algorithms will examine the profiles of people similar to your existing customers and allow you to reach them with an advertising message.
Thanks to data from Pixel, you can also conduct remarketing (which you will read more about later in the text).
Ads in Insta Stories
Insta stories quickly gained great popularity among Instagram users. For some of them they replaced Snapchat. 
Instagram news feed ads
Instagram also offers news feed advertising. As with Facebook, many formats are available - photos, carousels, collections or content in the Explore section.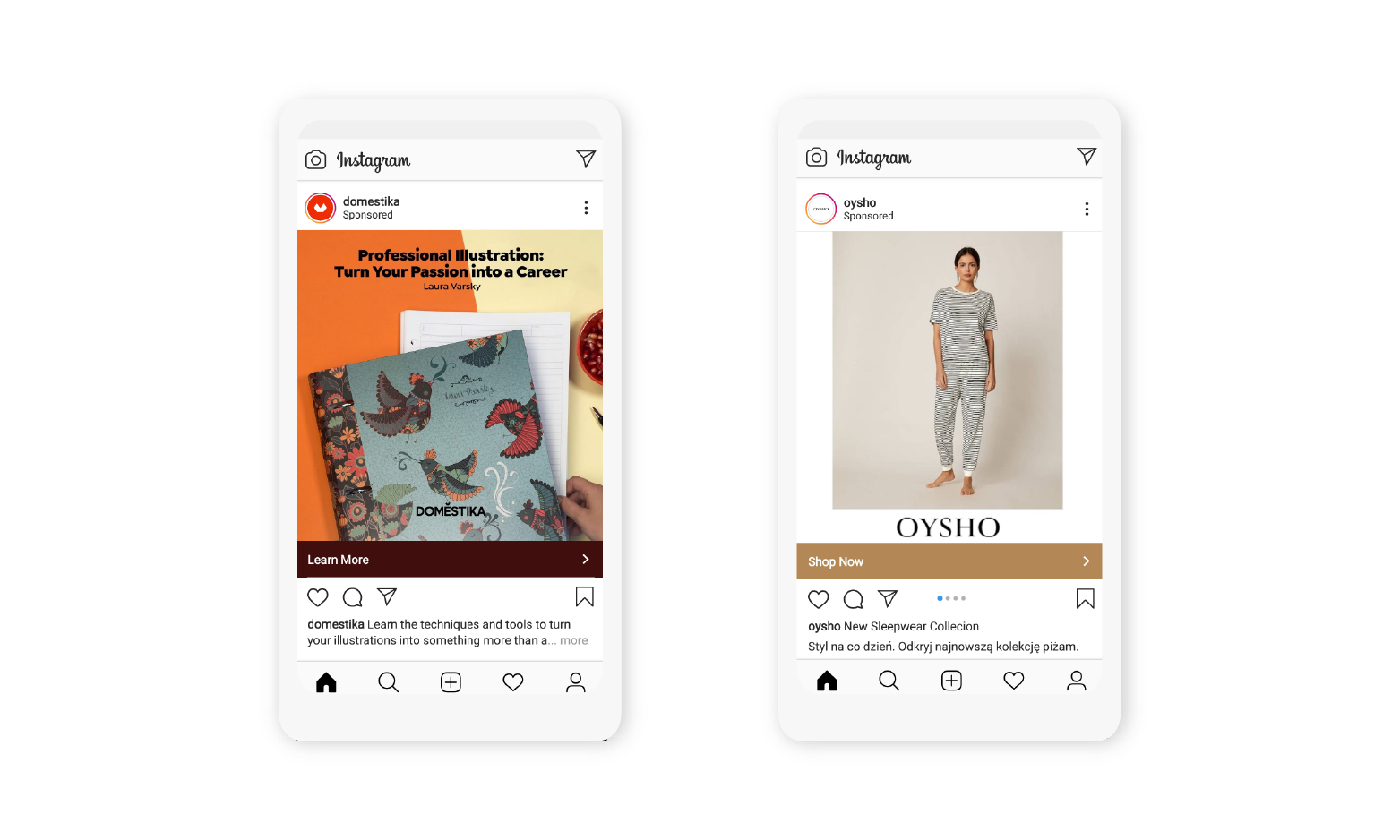 Audience network
Audience network is a service that allows you to place an advertising film on the pages of publishers cooperating with Facebook. The number of such entities is limited and they are carefully selected and verified by Facebook. 
Due to the fact that users can see your content on more platforms, they more often decide to use your offer. Facebook boasts that when using Audience Network, the conversion rate is up to 8 times higher than in the case of promotions only on Mark Zuckerberg's website. 
Banner advertising
Banners are graphic and text ads, sometimes they also contain animations. These are elements that clearly stand out on the background of the page. Depending on the website on which they are displayed, banners may have different formats.
After clicking the banner, the user is taken to the landing page. There, he can make a purchase, download an e-book, subscribe to the mailing list, or perform any other action you want
Space for banners can be bought in 3 ways. First, using the Google and Audience Network Facebook networks described above. Secondly, directly from the publisher. Third, using one of the RTB platforms.
RTB (Real Time Bidding) are shopping platforms on which advertisers compete for advertising space in real-time auctions. To bid, you must specify the maximum bid you can pay to display the ad to the user. If your offer turns out to be higher than the competition - you win. 
Banner advertising, like email marketing, has been around for a long time. The first internet banners appeared in the 1990s. Also in this case you hear about the imminent death of this type of advertising. However, it turns out that good banners can still attract users and can prove to be an effective weapon in the fight for potential customers.
Remarketing - how to activate users?
Remarketing consists of displaying ads to users who have already familiarized yourself with your offer, but have not used it and directing them to people who have already found your offer and who have not used it, and those who can re-use it. 
How do we know that a given user already knows your offer? To obtain such information, the above-mentioned cookies and relevant codes on websites that signal groups of such users are used.
It is worth creating messages targeted specifically at these groups of recipients. People initially interested in the offer are much more likely to use it later than users who reach it for the first time. 
Email is often used for remarketing because recipients often leave their addresses during the purchasing process. You can also use personalized banners or ads on Facebook. 
Effective remarketing tools include rebates and other special offers. In the latter case, it is a good idea to offer a complimentary product. For example, a user who bought a bike may be offered a water bottle or a set of keys. 
Campaigns on the Internet - The Good, The Bad and The Ugly
Creating an effective online campaign is not an easy task, especially for those who are taking their first steps in internet marketing. You need to pay attention to many factors that affect the effectiveness of marketing activities. 
High-quality creations
The basis of an effective campaign is the right message. It should be above all simple and clear. Content should be as short and specific as possible. Thousands of companies are fighting for the user, so you have little time to draw their attention. Don't waste it on providing useful information.
Graphic designs should also be as simple as possible. Focus on visualizing the product or service. 
Selection of the medium 
After creating the creation, it's time to put them in the right context. The place where you place your ad will depend on your audience.
As we mentioned above, the Internet offers wide opportunities to target the message to specific groups. It is worth remembering at the stage of planning the campaign.
Monitoring of effectiveness
After starting the campaign, it's time to measure its effectiveness. This is a very important stage. It allows you to determine what activities are profitable and what is better to give up. 
Making modifications
Thanks to good analysis, you can make changes and improve campaign performance. This is a very important activity that will help you avoid losses caused by ineffective actions. 
How to measure campaign effectiveness?
An effective campaign is, of course, one that brings profit. How to check the effectiveness of actions? Depending on your goals, you can explore different parameters, for example: 
number of new customers

number of leads obtained

number of clicks on the banner

registration of new users
You can check the campaign results using the tools you use to run your campaign. A popular solution that can provide additional information is Google Analytics. Is a free program that allows you to study website traffic. The range of available functions is very wide. 
Google Analytics, i.e. the ABC of campaign results analysis
Thanks to Google Analytics you will find out, among others, where the website traffic comes from, which geographical region the users come from or how they behave on the website (how long the session lasts, which web pages are visited and when users leave the website). 
Based on this information, you can create reports that help you understand the behavior of site users and adapt it to their needs. 
Conclusion on internet advertising
Advertising activities are necessary if you want to promote your website, product or service. Advertising on the Internet allows you to reach a specific group of recipients, it is not usually associated with high costs and its effectiveness is easy to measure. 
There are many forms of online advertising - from banners popular in the 90s to ads on social media. The choice is really wide. 
Carrying out a good campaign on the Internet is primarily a specific message, choosing the right place for publication and making changes based on the analysis of the results, which you will use using Google Analytics. 
Thanks to good creations, appropriate message targeting, analysis of actions and making corrections you will be able to create a campaign that will bring measurable benefits.  
You don't need to hire external partners to run advertising activities on the web. Using, among others, the information from our guide, you will create your first campaign yourself.  Also, entities providing tools for creating advertisements on the Internet. Google or Facebook and many others place the most important information in their knowledge bases. 
It is undoubtedly worth trying your hand at online advertising. Test different solutions and examine the results. Remember that practice makes perfect and in time you will be able to create a really successful campaign. Let's do it!