RWD and positioning
The responsiveness of a website is also of great importance when it comes to its position in search results. Google has been using the "mobile first" approach for several years. This means that when evaluating a website, the most important consideration is how it looks and functions on phones and tablets. For this reason, it is worth starting designing your website from the phone view. 
What will count in RWD in 2021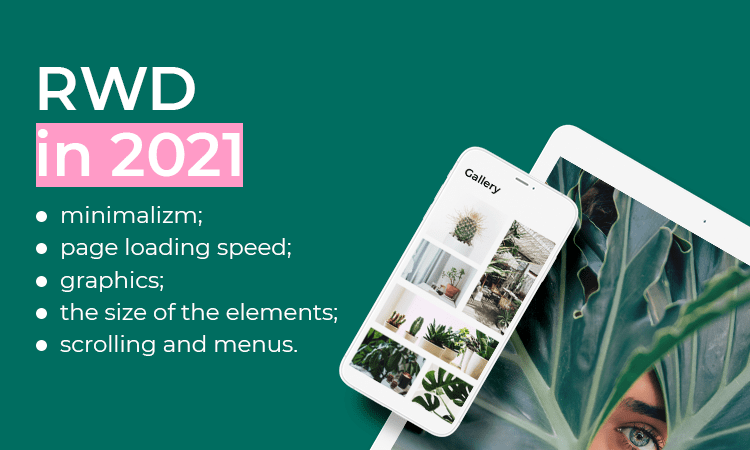 When creating a responsive website, you need to remember a few basic rules. Following them will help in creating a website that will meet the requirements of users, regardless of what devices they use while browsing. What will be of particular importance in the near future? 
Minimalism
The old principle of the architect Mies van der Rohe - "less is more" works well in web design. A website with a small number of elements is user-friendly. Minimalism makes it easier to find the necessary information and allows you to focus on the content of the page. 
Page loading speed
Minimalism in the design is not only of aesthetic importance. It has a positive effect on the page loading time. This is particularly important when using mobile phones, when the user does not always have access to high-speed internet. 
Graphics
Images displayed on larger screens must not have visible pixels. Therefore, it is good practice to use the SVG format, which allows you to save graphics in vector form. This will keep your images looking good regardless of the screen resolution. 
The size of the elements
All elements containing links (i.e. buttons, graphics, photos) should be large enough to be easily clicked on the smartphone screen with a finger. The size of fonts (commonly known as fonts) is also of great importance. The absolute minimum is 20 pixels high. You must also remember to choose sans-serif fonts, which are more readable on the screens than their serif counterparts. 
Scrolling and menus
Maneuvering through multi-level menus is inconvenient. Especially when using smartphones, you can notice the disadvantages of this solution. Finding the content takes time and takes several steps. 
That is why one-page websites are becoming more and more popular. Access to all information contained therein is possible through content scrolling.If it is necessary to place a menu, it is best if it is single-level. The maximum is two levels. 
Creating responsive websites has been a standard for many years. However, technologies are changing at a dizzying pace. What's more, new trends appear every few months and change the approach to design.
Creating responsive websites in WebWave
The WebWave wizard allows you to create a responsive website. This is mainly done by the Auto RWD function, which automatically creates a version of the website for screens with different resolutions. You can also manually adjust the layout and size of elements for individual views. Detailed instructions on creating responsive websites in WebWave can be found here. 
So how do I create a responsive website?
Designing responsive websites is now a standard. Users of mobile devices are responsible for more than half of the traffic on the Internet. Therefore, adapting the website to their needs is a must. Also, the algorithms of internet search engines take into account, first of all, how the website looks on the screens of phones and tablets. 
When creating a responsive website, you need to pay attention to several important elements. These are primarily minimalism, the speed of loading the website, the quality of the graphics as well as the layout and size of the elements. 
A responsive website can be easily created in the WebWave website builder. To do this, just use the Auto RWD function. You can also manually adjust the layout and size of elements to individual views.