What is WebWave
WebWave is a website builder, i.e. a tool that allows you to create websites without coding. The design process consists of selecting individual elements and placing them in the design field by dragging and dropping them. Elements can be freely modified and the project itself can be expanded with subpages or blog articles. The page you are currently on was created entirely with the WebWave website builder.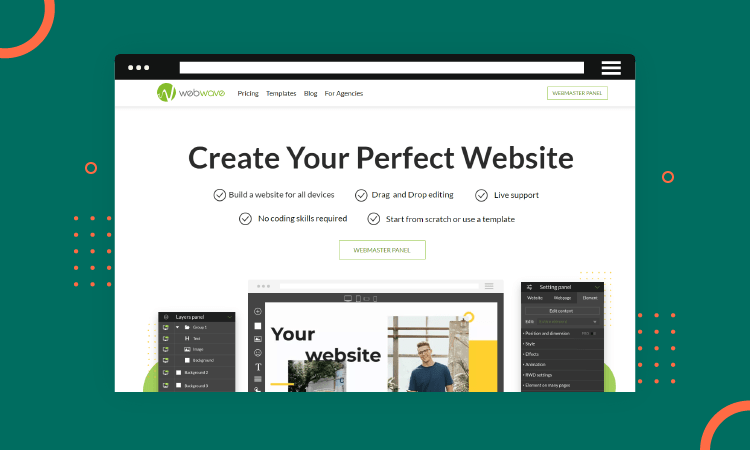 In addition to creating from a blank sheet, it is also possible to use ready-made page templates. Just modify them to suit your needs. In the case of templates, it is possible to modify elements, copy them, delete and add subpages and blog entries. Thanks to this, the finished page may visually differ significantly from the design it was based on. It can also be expanded.
Ease of use and speed of page creation
The WebWave interface is very similar to popular graphics programs. That is why people with even a little design experience will get familiar with this software quickly. Beginners have an extensive knowledge base and a series of guides available on YouTube at their disposal.
When designing a website in WebWave, you create a working version at the same time. So there is no need to draw mock-ups on the basis of which the page is created. Publishing on the internet is just one click away. What's more, you can connect a domain to the website directly in the website builder, buy hosting and take care of SEO. As a result, the entire design process, from the idea to the published and functioning website, is shortened as much as possible.
Custom website code and add-ons
Although working on the page in WebWave does not require the knowledge of HTML or JavaScript, the program allows you to add your own code to the page. This option extends the possibilities of the website builder and is especially useful in the case of creating complex projects, tailored in detail to individual customer requirements.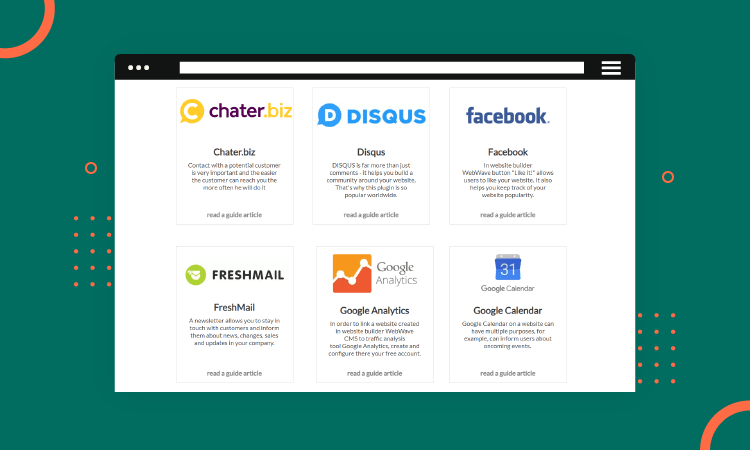 Besides, a website created in WebWave can be integrated with tools created by known and trusted partners. Such solutions include, but are not limited to, Google Analytics, Freshmail, and Shopify. The full list of integrations can be found here.
Technical support for Your Website
WebWave offers free support from the Help Desk. It is possible to contact us by phone, e-mail, chat on the website and via the Messenger application. Users can also count on members of the Facebook group.
SEO
WebWave has a number of functions that facilitate positioning - from basic ones, such adding meta descriptions and meta titles, through automatic reporting to Google Search Console, to an SEO analyser.
Website Security in creating websites for small businesses
The WebWave team updates the program on an ongoing basis and takes care of the security status of the pages created with this tool.
Working with the client on a webproject
WebWave is not only a website builder. It also facilitates cooperation with the client and offering them not only the website itself, but also hosting and domain. The most important functions useful in contract work are:
White label

working on one project by many people at the same time;

providing a domain and hosting;

automatic sending of bills to the customer;

sharing the CMS panel;

adding comments to the website project.
Website Development
The development of WebWave is based primarily on direct contact with users. Specific solutions are introduced based on their needs and ideas, which can be reported using the Facebook group.

WebWave Cons:
some limitations in very complex projects;

smaller user community than wordpress.
Having a professional website is a huge advantage for businesses. In the era of lockdown caused by a pandemic, more and more businesses place particular emphasis on contact with customers and partners online. Professional creating websites for small businesses,  therefore need tools that will facilitate and accelerate work with the client.
When to use Wordpress and when to use WebWave?
Wordpress has been recognised by agencies and freelancers who create websites for a reason. It gives almost unlimited possibilities, integration with many extras and is so famous that it has become extremely popular. Its use is convenient, above all, for large projects, which can be spent on a lot of time and resources.
WebWave is, unlike Wordpress, software created from the beginning with the idea of designing, not only maintaining websites. The graphical user interface makes work easier, and the availability of additional options makes it an all-in-one tool. It will work in most corporate websites, blogs or some online stores.
All WebWave functions directly related to website development are available for free with no time limits. To try out the website builder, simply register by clicking: