The last 12 months have been a period of hard work for us, which has brought great results. The number of users from foreign markets has more than tripled. Over 200,000 people use our website builder. 6 new employees joined WebWave. Now we can develop our tool even faster. 2019 was a really good year!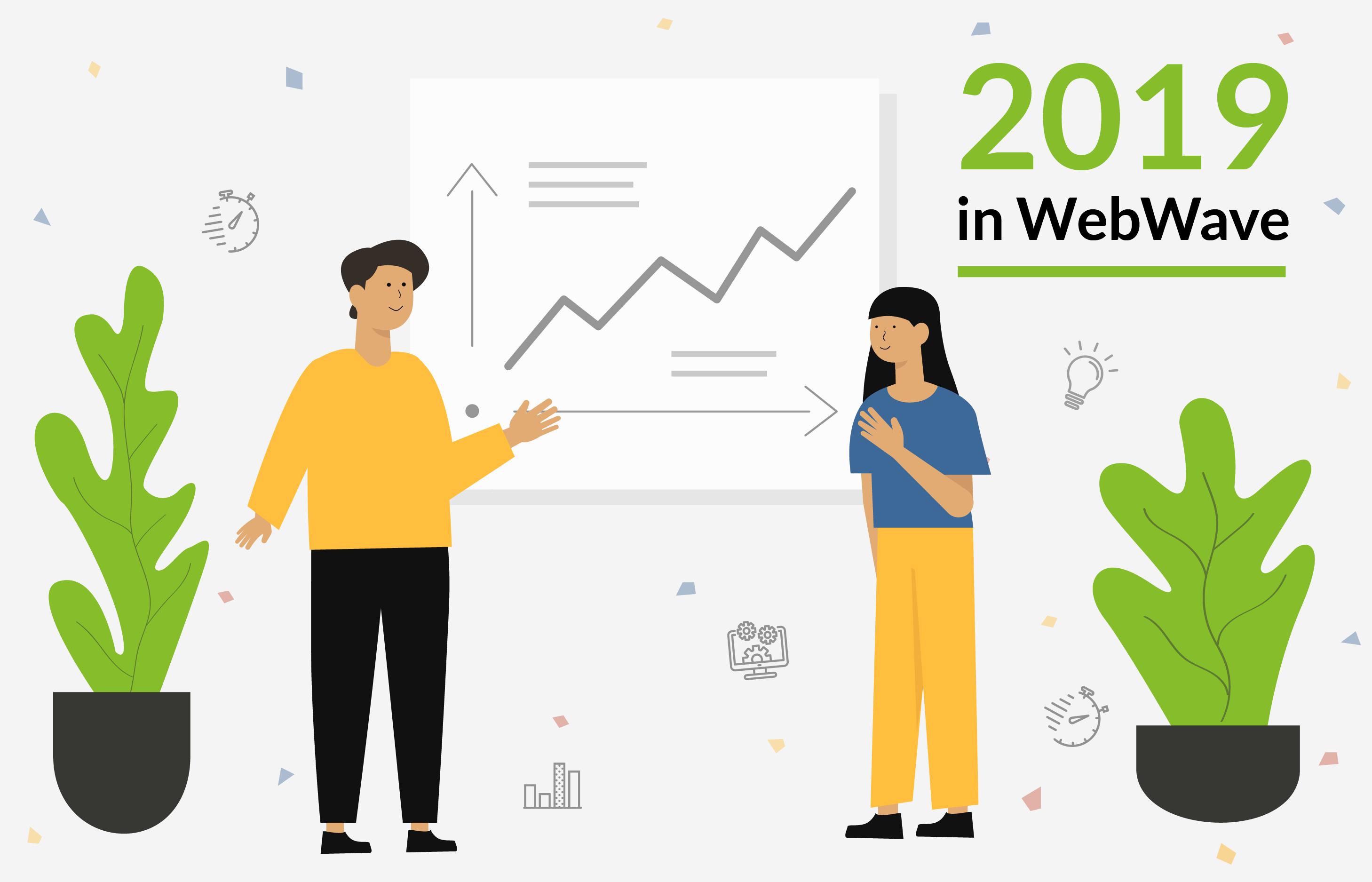 More possibilities, smoother work
In 2019, we introduced over 60 important changes that make working with the website builder faster and easier. Pages created in WebWave look even better. New features appeared several times a week:
In January, we introduced automatic matching of elements to the screens     of mobile devices.     

In February, we increased the security of the e-mail system and made it     easier to present products in an online store.    

In March, we changed the page preview window on phones and tablets.    

In April, we completed a thorough reconstruction of the infrastructure, thanks to which we limited the impact of server failures on the functioning of our website builder We have also added 31 new groups     of elements and enabled full control over the position and size of elements relative to the screen size.    

In May, we significantly accelerated the process of indexing pages by     Google, we made available the option of bulk purchase of Premium Packages and added access to the function Backups via CMS.         

In June, we simplified the editing of articles and facilitated email marketing.     

In July, we introduced an SEO analyzer - a tool suggesting changes that     improve the position of the page in Google search results    

In August, we facilitated integration with Google Analytics and enabled switching payments for the Premium Package to other entities, which significantly facilitated work with clients.    

In September, we enabled the linking of elements and groups, so you can automatically match each part of the page.    

In October, we launched an automatic alignment of items to other objects as they are moved.    

In November, we expanded the options for editing the page footer.    

In December, we started using the webp format to encode photos on the page and introduced PWA technology, aiming to improve the position of pages created in WebWave in Google search results.
join over 200 000 people who build websites with no coding for free
Website builder WebWave allows you to build free websites with no coding for free. Start from scratch with a blank page or use one of many free templates

BUILD YOUR OWN WEBSITE FOR FREE
It's all for you!
In 2019, the WebWave team expanded to 21 people. Thanks to this, we can take better care of your needs and introduce new functions in the website builder faster. 
We listen to you carefully. Every day we talk to you by phone, online chat, e-mail and on our Facebook group. We also implement the features suggested by you in voting for vote (https://vote.webwavecms.com/). We try to extract as much information as possible from each conversation. We do our best to introduce new features that you actually need and which will make your everyday work easier.
We are glad that you appreciate our efforts. In our systematic NPS survey on a scale from -100 to 100, we regularly receive ratings of around 90 points from you. We also get many positive signals via chat and phone. Everything we do, we do for you. Your support gives us wings and motivates us to continue working. Thank you!
We do our best to introduce new features that you actually need and which will make your everyday work easier
We are entering 2020 with optimism 
We are not slowing down in 2020. We will implement a lot of news. You can view our plans for the next few months on this page (https://webwave.me/planned-features). We will also continue to spread our wings in Poland and on foreign markets. Our enlarged team will work even harder to meet your expectations and create a functional tool for building great websites without coding. 
Expect the unexpected, because we will do everything we can to make 2020 even better for you!
Make sure to read the following articles:
Author:  Maciej Czajkowski - CEO and founder of WebWave