Last year, we constantly heard about COVID, remote working, uncertainty, and broken supply chains. Nevertheless, WebWave is pushing forward. I'd like to share the top 5 milestones we achieved in 2021:
More than 400,000 satisfied users already create websites with WebWave
400 000 people are already creating their websites with WebWave. But what is even more important, these are satisfied users. In NPS surveys that we regularly conduct, in 2021 we received an average score of 75. The score that can be obtained in such a survey is measured on a scale from -100 to 100. Any score above 0 is considered good. A score of 75 is outstanding. We go to great lengths to ensure that you are satisfied with our services, so we are very pleased to receive such ratings. Special credit goes to our support team, which averaged 742 support tickets per week.
WebWave goes global
Last year we established a key overseas partnership and opened the first overseas branch of WebWave in Brisbane, Australia. There we conduct marketing activities and support in the local time zone in the market of Australia and Oceania. We also ran an AppSumo campaign resulting in over 1300 sold packages mostly in the USA. We also significantly increased our engagement and presence in Europe. However, all this is just the beginning, testing the possibilities, baby steps. We will spread our wings in 2022 and from here on expect real breakthroughs.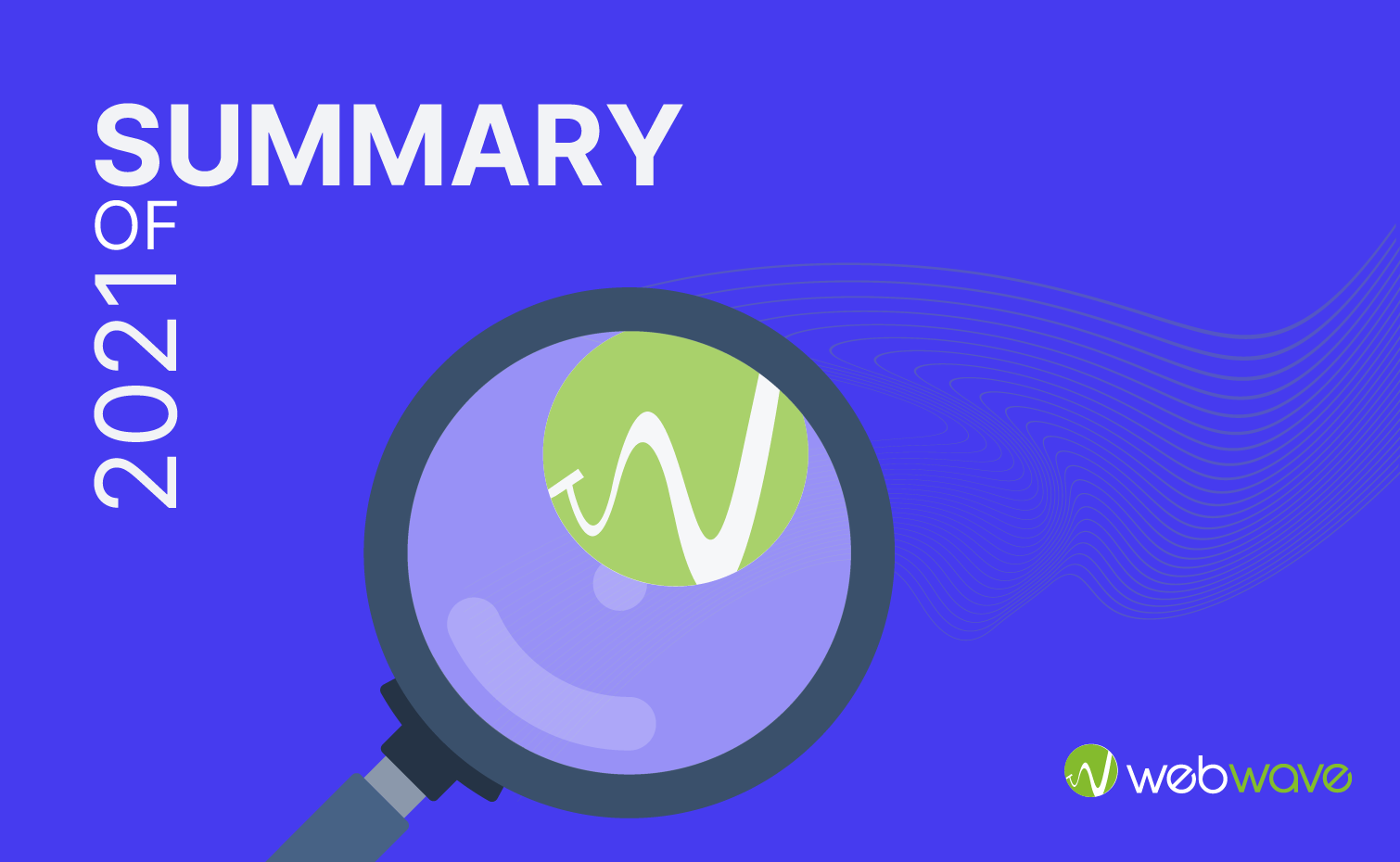 Lots of new features
Last year we introduced 277 changes in the application. There were so many changes that at the end of the year we modified the application update process, and now we upload a new version to the live servers twice a week, instead of once a week as before. This year, we have also managed to significantly improve the testing of the application before uploading a new version, which makes new features more stable and cause fewer problems. Among the biggest new features we introduced this year are:
An animated counter, which allows you to present attractively, for example, how many projects the company has completed in the last year

Commenting mode of the project, so that many people can easily submit their comments and suggestions

Possibility of adding your own font from local disk

Ability to edit content in the cookie bar

Numerous improvements in creating pages for mobile devices

New animations and interactions such as showing, hiding, and hooking elements when scrolling the page, or new modes of animation of the page break

Development of quick groups of elements
Improved e-commerce and online sales
However, if I have to name one feature that has grown the most in WebWave over the past year, it would definitely be the WebWave shopping cart and online sales feature. We added a ton of new features in the shopping cart:
Product variants

Delivery options

Discount codes

Selling digital products

Ability to create a custom message sent to the customer after purchase

Redirection to a specified URL after purchase

Custom fields in the order form
The WebWave community is growing
Activity on both our Facebook group and the WebWave development community forum is growing steadily. More and more positive articles and mentions of WebWave are appearing on the internet and social networks. 
We are very excited about all of this, and so this year we wanted to give you new opportunities to build an even deeper relationship with us. For a long time, many have used WebWave to create sites for others and thus obtain a source of income. However, last year, we greatly expanded the opportunities to grow your own business. We made it possible for developers to apply to become a certified WebWave expert. We refer our clients who need help with their site development to such experts. Second, we have expanded the community template features. Developers working in WebWave can create a template and submit it to WebWave. We will put it in the website builder and if our customers use it, the template creator will get a commission. All these features allow you to build your career with WebWave and get a regular, stable source of income.