Webdesign is a fascinating and unique industry. It is one of the youngest branches of design. That is why it changes extremely quickly. It requires continuous learning, improving skills and tracking changes. For all this, creativity is needed. 
Webdeveloper must be ingenious. Creating a good project requires an open mind and readiness to think outside the box. Therefore, the work of the website creator does not end when the computer is turned off after the project is finished. In fact, he is at work all the time, because he draws inspiration from many sources, also in his free time. 
Everyone, however, has moments of burnout - moments when nothing comes to mind. Then making even the simplest project becomes a torment. How to get back into shape and find inspiration in such a situation? Read this entry and learn 5 ways for creativity from WebWave developers!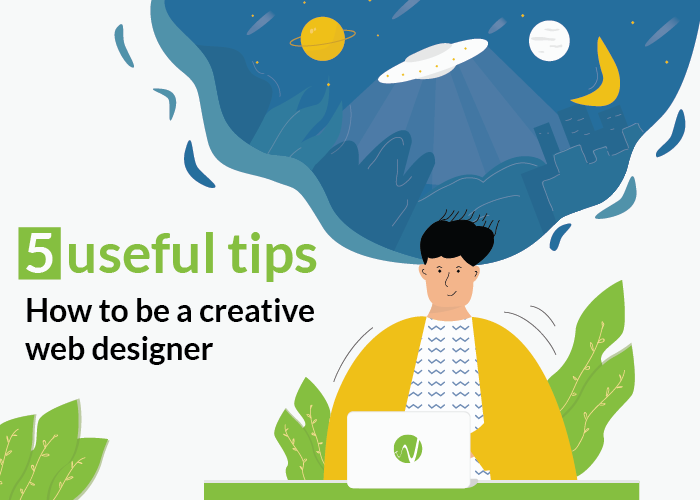 Read blogs
Like the fashion industry, the world of computer technology is constantly creating new trends. If you always want to be one step ahead of the competition, you must constantly monitor changes. It is good to spend at least a few minutes a day to learn about the news. Therefore you need good quality sources. Blogs will work perfectly well in this case. Their creators compete in releasing more news. Use that. Make the most of bloggers' knowledge and skills. Stick to several trusted sources that maintain freshness and professionalism. The most popular include Smashing Magazine and Web Designer Depot. Research, learn and pay attention to events related to trends.
All blogs read? Write yours!
Nothing helps in creating your own brand like a simple blog. Regular writing, promotion. taking care of contact with users - this is a fantastic basis for any aspiring entrepreneur who focuses on development. 
If you are afraid that you will not have the passion and commitment to a large project - start with a small one! 
Write about your projects, share knowledge and meet people similar to you. 
You can create a blog with the help of the WebWave wizard - offering unlimited possibilities and allowing you to develop your creativity in directions in which it was previously impossible. 
join over 180 000 people who build websites with no coding for free
Website builder WebWave allows you to build free websites with no coding for free. Start from scratch with a blank page or use one of many free templates

BUILD YOUR OWN WEBSITE FOR FREE
Develop online friendships
Create an online community around a topic that interests you. Thanks to this, every moment spent talking and exchanging views will result in deepening your knowledge.
One of the places where you can meet new people can be WebWave Facebook page. Every day, its members share information about the wizard and news from the world of webdesign. 
If you're a freelancer, joining a designer community is almost a must. You will meet potential clients, colleagues, and contractors.
Expert circles are also the best source of constructive criticism. Accurate remarks of other specialists motivate to further work and test creativity. They encourage improvement and continuous development.
Take part in training and workshops
For many people, creative work is primarily a chance to meet people of similar interests. When people contact each other to exchange ideas and experiences, all parties can benefit and grow together. 
Training and workshops are not only an opportunity to exchange insights and ideas. They also allow for a moment of networking, i.e. exchanging contacts in order to get orders or establish cooperation. 
Industry meetings also allow you to develop in new areas. The knowledge that can be gained from them is often unavailable in any other way. 
These types of events allow you to find or change jobs, broaden your qualifications or simply look at existing projects from a different perspective. 
If you are interested in the subject of training, we have great news - we organize webinars about creating websites and their positioning twice a week. You will learn specific things that are necessary to run your own site. 
Webdeveloper must be ingenious. Creating a good project requires an open mind and readiness to think outside the box
Your passion - our tool
Of course, nothing stimulates creativity like regular practice. However, you cannot always work on your own terms. Webdesign is a demanding industry, and few tools are available for free. 
To be able to regularly transfer your ideas to the virtual world, you need a tool that you can fully rely on. That's why we created the WebWave website creator. 
It allows the implementation of unique, creative projects completely free. Now everyone can try their hand as a web designer. Discover the unique features of our wizard, which sets no limits - you will implement every idea in it. Learn more by setting up your free website right now.
As you can see, the lack of creative inspiration is not the end of the world. By using these 5 tips you can easily overcome creative inability. Do not wait and start working on your site now! Don't forget to boast about its effects. 
Make sure to read the following articles:
Autor: Julia Mądraszewska, Jan Chmielowski