May
26 May 2021
Possibility to enable/disable displaying an item when you scroll through the page
You can enable/disable displaying the element after scroll. This functionality allows you to show or hide a button or other selected element when you scroll down the page.
6 May 2021
Possibility to enable/disable the icon of Accepting of shop terms and conditions in the Webwave online store
You can enable/disable the Accept terms icon in the Webwave store. We have also added the ability to edit the text next to the icon and add a link to the subpage with the Store Regulations so that each user can fully adjust this element to their needs.
April
22 April 2021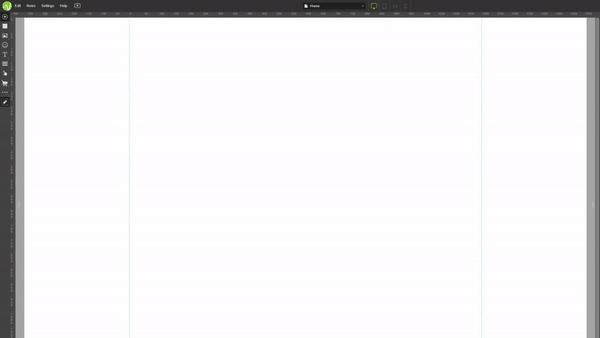 Possibility to add product shipping options in the online store settings 
You can set several shipping options for products, as well as prices for these options. The purpose of this feature is to provide online store owners with more customer service options. This improvement is the next step in the WebWave team's plan to expand the e-commerce part of the platform.
Possibility to customize the WebWave affiliate link
You can recommend the WebWave website builder to everyone who wants to create their own website using our affiliate Recommend and Earn program.
We have implemented a new feature that allows you to customize your referral link. In its default state, the link contains the unique identification number of your account. From now on you can replace it with any word, e.g. with your own name. This will make the link look professional and easier to remember. See how you can use those features.
01 April 2021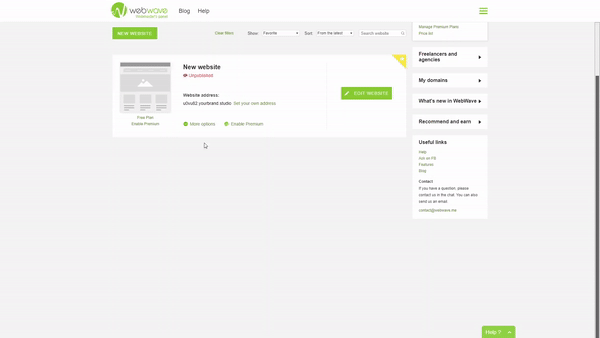 Possibility to handle project comments from the Webmaster Panel
Now you can enable or disable comments for a specific page without even editing it. You can do it from the Webmaster Panel. In the same place, you can also copy the link to the comment (for example, to send it to the customer) and also show or hide the comment bar on the published page. The function is available for Agency Accounts. 
Our team is expanding!
Meet our new staff:
Ania Dzierba - UX/UI Designer
The most recent person hired is Ania Dzierba - UX/UI Designer, who works on making WebWave even more intuitive and user-friendly. 
She is responsible for WebWave application development, as well as design, testing and implementation of new application features based on business requirements and technical specifications. Anna develops and oversees interactions and microinteractions, user flows of the application and development of system design.
Patryk Sadkowski - Junior Frontend Developer
Patryk has worked hard and raised his qualifications which resulted in transition from Customer Support to our IT Department. He is now officially a Junior Front-end Developer. He is now responsible for:
Creating and Updating Visual User Interfaces (GUIs)
Implementation of new features.
Bug fixing in the application
Kaja Rowicka - Marketing Specialist
We hired a marketing specialist - Kaja Rowicka to work with our content manager Paula Niziołek. She writes articles on various topics associated with website design, creates and sends mailings, including newsletters, designs content for landing pages and other content such as slogans and advertising messages.
Together with Paula they analyse marketing activities on the Polish market and try to introduce changes, work on the statistics of newsletters and blog posts.
Michał Kiełbus, Konrad Smuga
They help users via chat, email or phone to resolve issues with their websites and domains. 
Radosław Moczarski - Junior DevOps
Radosław handles server administration and enhances the development process. He is working to ensure that new features appear as soon as possible and with as few bugs as possible.
Dominik Wilusz - Frontend Developer
I create functionalities in the editor based on wireframes and I fix reported bugs. in the future He will also be involved in the development and bug fixing
Przemysław M. Pajdak - Country Manager EN
That's me! ;-) I work on polishing our English (or "Englishing" the Polish ;-)). I manage the tasks, the contacts and everything else that has to be done to make WebWave known in the English market. I work on the proper localisation of the editor, as well as the other parts of WebWave (website, blog, social media). I write articles, translate content, reach out to prospective new partners and do other things to ensure WebWave is discovered by as many people as possible!
More than 500 000 websites made in WebWave!
We are excited to announce that we have passed a milestone of 500,000  websites made using WebWave. This is a wonderful opportunity to celebrate this success. We would like to thank you for your creativity and time you put into creating websites  using WebWave.  We are certain that more and more people will join us in the near future. We hope to surpass a million websites made in WebWave very soon!
Livestreams!
We are experimenting with a new format for our YouTube channel. In our first livestream, our video content designer, Bartosz, tried to create a web site using WebWave in just 10 minutes! His attempt was successful, and for this reason, he gave away extras to people who watched and supported him during our livestream.
What were those goodies? ...Keep an eye out for the live and find out. ;-)
New Blog Articles! 

We published numerous new articles on our blog in all the languages that we currently support. We have wrote about news and trends in SEO, about Core Web Vitals, Responsive Web Design, newsletters, Public Relations, new WebWave features and other things related to website design subject.
The most important notion is our latest comprehensive guide on How to Start a Home-Based Web Design Business. We will be releasing another article in this series next month.
Above and Beyond. Always.
We are committed to ensure WebWave is the most powerful and user-friendly website builder on the market. It is our duty to work tirelessly to achieve this goal. With the help of our new features, functionalities, UX/UI improvements and team expansion we make certain you will keep up with the latest technological innovations and stay one step ahead of your competition.
Our staff is constantly learning and updating their skills to make sure that every user has the best possible WebWave experience. The WebWave team is unique in that we are always in search of new and different ways to improve our product.
We believe in empowering people with the tools they need to succeed and won't stop until they do.
We hope you enjoyed reading this WebWave News article.
Stay up to day by joining our Facebook Group 

Thank you for being with us!