In the last entry, we discussed the topic of ordering a website. Today we will focus on how to create the brief. It is worth spending some time on this. A well-written brief allows the web developer to become acquainted with our vision. Thanks to this, work is faster and requires fewer corrections.
The website brief is a short list of your expectations towards the website. You present it to the web developer - the person who will design the website for you. Its creation is the first stage of work on the site.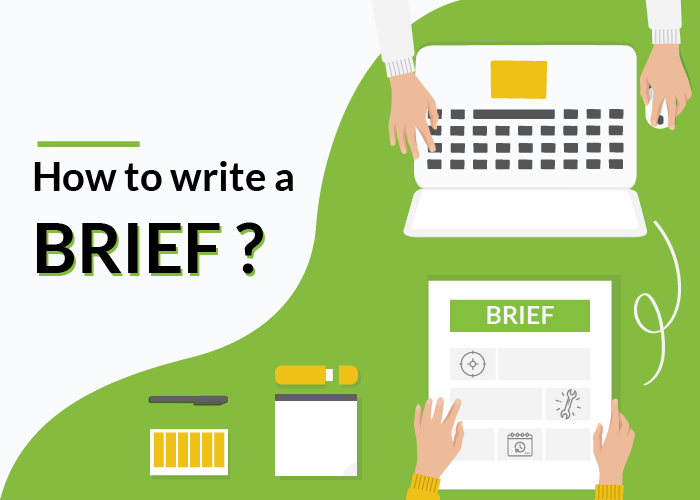 What should you include in the brief of the website?
A perfect template for a brief website does not exist. Web developers have different preferences. Some contractors send their clients a ready template, which you only need to fill in. This makes work much easier. Other website creators give the client greater flexibility in this regard. Regardless of whether we work on a ready template or create a document from scratch, we should include certain elements.
Information about your company
First of all, provide basic information about your company - name, address, and scope of activity. But that's not all! Briefly describe the organization's history, mission, team, products or services offered. This will allow the contractor to understand the specifics of your business.
Recipients
It's about your target audience. You certainly know your customers perfectly. Let the web developer find out something about them as well. Describe exactly to whom you are addressing your message. 
Purpose of the site
Answer the question "what do I expect from my site". In some cases, you will only need a simple business card. Small companies, such as restaurants, car workshops, and hairdressing salons, build simple websites showing the offer. For larger organizations or more specialized enterprises, you will need a more extensive project with many subpages. If you want to sell on the internet, you need an online store. 
join over 190 000 people who build websites with no coding for free
Website builder WebWave allows you to build free websites with no coding for free. Start from scratch with a blank page or use one of many free templates

BUILD YOUR OWN WEBSITE FOR FREE
USP
Unique Selling Proposition, which is what sets you apart from the competition. This is a basic element of the entire marketing strategy, and thus of your website. Allow the site creator to clearly identify the message.
Competition
Briefly describe the companies that operate in your niche. Will you find pages to get inspired? Or maybe you know negative examples that will help determine what errors should be pointed out by the web developer? 
Expectations for appearance
If you already know the competition sites, you are aware of what they look like. Think about what you like about them. Think about the elements you would like to put on your website. It can be a menu, type of content, interesting animation, etc.
Technical aspects
Consider what functionalities the website should have. Do you want to allow users to log in, create an online store or connect the site to external services? Be sure to include this information in a brief.
Content
Specifically, site elements such as a blog, contact form, login page, etc. In your brief include information about what should be on your website.
A well-written brief allows the web developer to become acquainted with our vision
Deadline
At the beginning of cooperation, it is necessary to determine the expected date of completion of the project. Entering the time frame will help to organize work on both the page creator's and the client's side. 
Budget
The cost of a website depends on many factors. The general rule is that the more original and complex the design, the more expensive it is. Think about whether you want to create an exceptionally distinctive project or at a lower cost. Often, simpler websites are more effective. You should plan your budget before you start work. 
Website maintenance
Creating a website is just the beginning of work. You also need to buy a domain - a unique name and hosting - that is, space on the server. You must also determine what changes you will make yourself and what the developer will have to do. For example, you can ask for permission to add blog articles or photos and product descriptions. The CMS panel is used for this.
Summary
Creating a good brief is the basis for working on a website. It will allow for smooth cooperation with the web developer. Sometimes, especially for simpler projects, you can also create a website yourself. WebWave website builder will help you. There you will find dozens of templates divided into thematic categories. You can also easily design your site from scratch. Click the button below and meet WebWave.
Make sure to read the following articles:
Author: Jan Chmielowski