Target group for online store

Not specifying the target group
Before starting to create a store, you need to define whom you are addressing the message to. Otherwise, it will be difficult to conduct effective marketing activities.
Poorly chosen message
This is another problem related to communication with customers. It happens that the creators of online stores do not adjust the message to their target group. This is a result of two factors.
The first is misdiagnosis of needs. Customers must be offered a product that satisfies them. Otherwise, it will be difficult to hit with an effective marketing message.
The second is the wrong language. Expressions that specialists understand may prove difficult to ordinary mortals. In addition, a language not spoken by the target group will appear artificial, which will make the message less credible.
Ecommerce Design Mistakes
Poorly designed store page
Shopping in an online store should provide customers with satisfaction. Unfortunately, the bad appearance of many stores makes shopping difficult. Poor design not only spoils the aesthetics.
A website that was created without paying attention to the user experience is unintuitive to use. For this reason, customers leave her quickly.
What to do in the case of beginners who do not have a budget for hiring specialists? A good solution is to use professional store templates in website builders. Such a solution is offered, among others, by WebWave. All designs are free, mobile-friendly and easy to edit.
Ignoring the needs of mobile device users 
The rapid increase in the popularity of smartphones has revolutionized the e-commerce market. At the moment, most of the traffic to online stores comes from mobile devices. Even so, there are still sites that are not adapted to phones and tablets. In the case of online stores, you should not forget about quick payment methods that will allow you to pay conveniently via the touch screen. 
Too complicated purchasing process
The popularity of smartphones and tablets also affects the entire purchasing process. Today, simplicity matters more than ever. The time between searching for an item and placing an order should be as short as possible. Long forms or a multi-step process of adding a product to the cart will not have a good effect on the user experience.
Poorly designed  Ecommerce navigation
The website user should always know where they are and how to go to the section they are looking for. This is one of the most important principles of web design.
Online stores are mostly quite complex websites. They consist of many subpages. A user who gets lost on the website, will not be able to find the product, basket or home page, will feel confused. Therefore, designing a friendly navigation is a priority in this case.
Building your own online store is quite a challenge. When creating this type of website. You need to pay attention to many aspects - from the assortment, to the appearance of the website, to payment options.
SEO Ecommerce Mistakes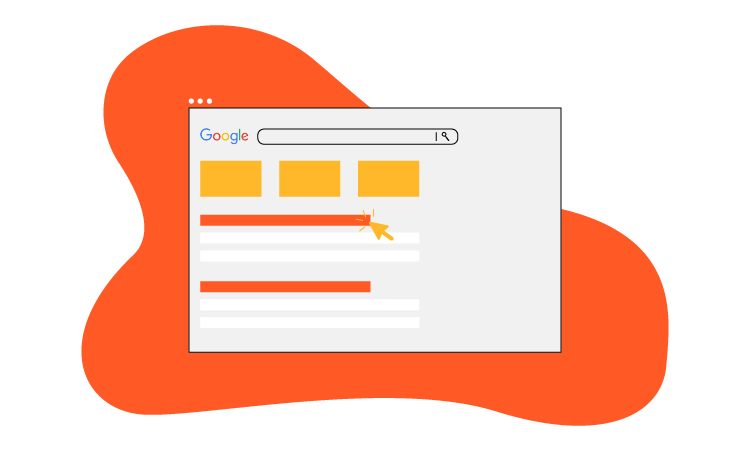 Ignoring content marketing
Content marketing is one of the best ways to increase your website's visibility in search engines. Google and its competitors' algorithms promote websites where users find content that interests them 
When running an online store, you cannot forget about it. So it's worth investing time in running a blog. It's also a good idea to share other materials such as infographics, e-books, and case studies.
Content marketing not only improves your website's position in search engines. It also helps build customer loyalty. People who find valuable content on the website will be happy to come back for more.
No SEO strategy and no marketing strategy
Before starting the website promotion, you need to prepare a plan. Otherwise, the actions taken will be chaotic and will not bring the expected results.
A good strategy contains some of the most important elements. It specifies the expected effects, the measures to help achieve them, the budget, time frame and work plan.
No "About us" page
Contrary to appearances, the "About us" page is an important element of the website. First, it increases customer confidence by showing that there are people behind the project. Second, it has great importance for your site's position in the search engines.
Algorithms also pay attention to plausibility. The "About us" page with even basic information about the organization makes the store higher on the list of search results.
Technical issues in Ecommerce
No customer reviews
This is another, next to the "About us" page, element increasing the store's credibility among customers. Users don't want to buy a pig in a poke. They are more likely to decide to buy a product that has a good reputation among the people who bought it.
No security certificates
Customers leave their confidential data on the website of the online store. These include, first and foremost, the information necessary to make the payment. Therefore, it is necessary to ensure an appropriate level of security.
The primary method of securing information is the SSL protocol. It is a data transmission system that encrypts it at the level of the browser used by the user. This makes it difficult to intercept them.
Pages that do not have an SSL certificate are rated by Google as not secure. Chrome is marking them red and their position in the list of search results drops. Moreover, users are already used to the fact that SSL is standard in online stores. In the WebWave Creator it is available for free for all websites.
Limited choice of payment options
When creating an online store, you must remember that customers' preferences regarding payment methods are different. Therefore, it is good to offer at least a few options. The most popular of them are fast internet transfer and card payment. More and more people also decide to use Apple or Google payment systems. 
Limited choice of delivery options
This is a problem similar to the one described above. Customers should be able to choose the delivery option according to their preferences. Therefore, before starting a business, it is good to find out what opportunities in this area are offered by the competition and propose similar solutions.
Conclusion on Ecommerce mistakes
Creating an online store is a serious project. There are many pitfalls in your work. We hope the information in this article will help you avoid them.
The construction of the store's website is facilitated by WebWave Free templates available here, integration with Przelewy24 or SEO analyzer will make working on the store easier, faster and effective.