Make a schedule
Above all, plan your activities early enough. The end of October is a good time for small businesses that want to run a small marketing campaign. Even a simple schedule should contain several elements:
· targets
· methods of achieving them
· budget
· time frame
Careful planning of tasks is the key to success. Does it sound trivial? Perhaps, but small businesses still do not always pay attention to campaign organization, so it is worth remembering.
Change the look of the site
It's a good idea to put items related to Black Friday on the website of the online store. Thanks to this, users will see at first glance that they can count on a special offer.
· Banner
At the top of the page, you can place an advertising banner informing about the promotion. This is where the eye of the person visiting the store focuses. This way, the user will notice at first glance that he can count on a special offer.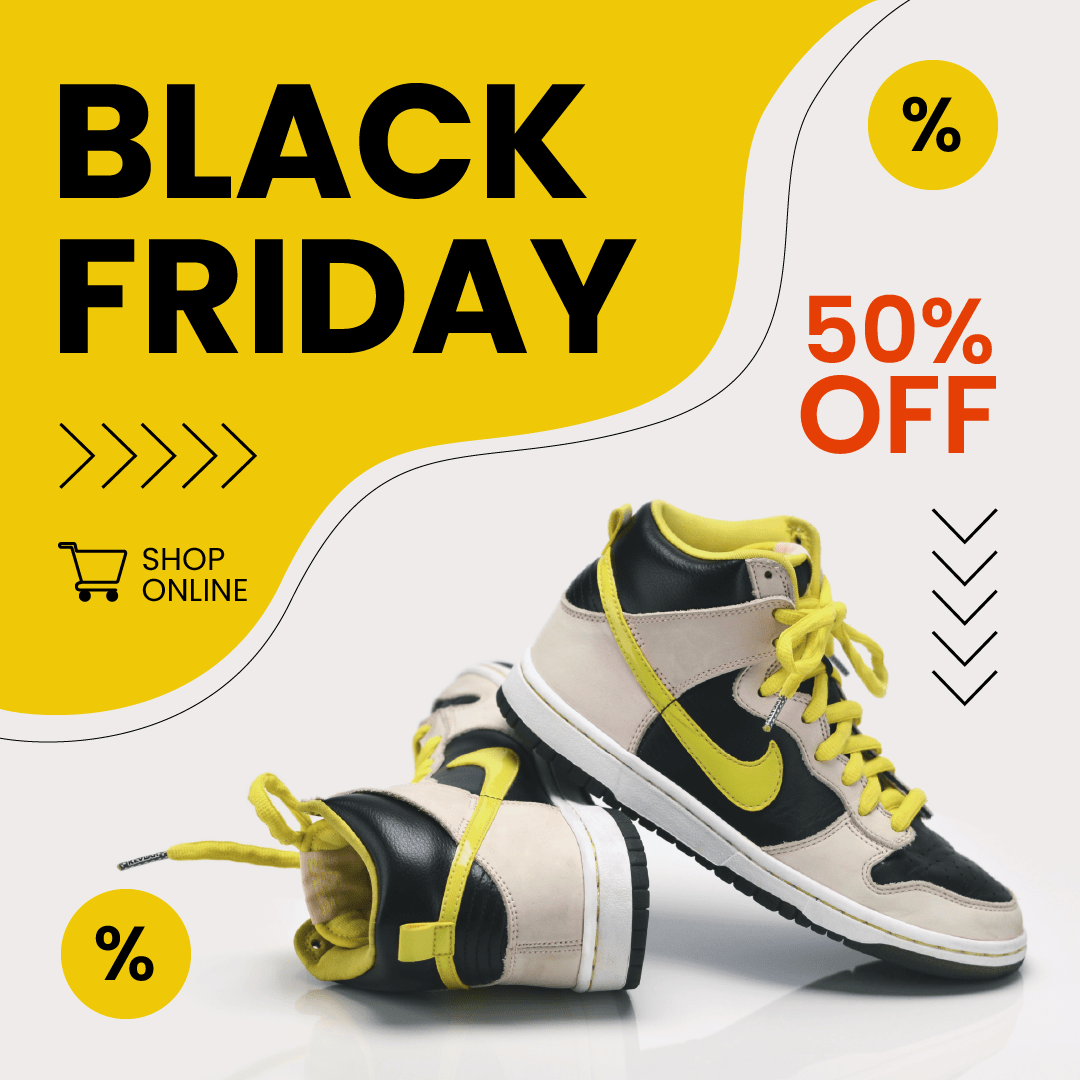 An example of a promotional banner
· Colour schemes
Black is a neutral color. Therefore, it is easy to integrate into the website design and use it in several elements. It can be used, for example, in buttons or a background photo. Remember to be moderate. The temporary version of the store's website cannot be too different from the standard version. It should remain easily recognizable.
· List of products on sale
If you offer a price reduction for some products, make them visible on your home page. Then it will be easier for potential customers to find them.
· A clock
On the store's website, it is good to reserve a place for the timer to count down the time until the end of the promotion. This way, you can show that the offer is time-limited and make the users decide to buy quickly.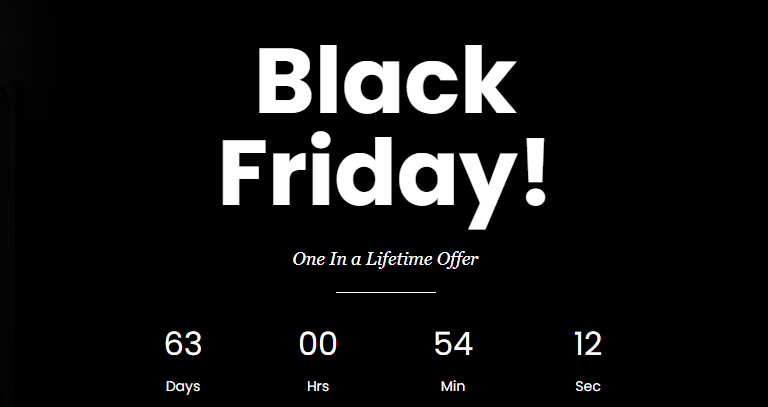 An example of a clock on the site
· Product subpages
Don't forget to edit product cards. If you offer discounts, include information about the new prices there.
Provide quick payment methods
Time is of the essence in the Black Friday campaign. Customers do not want to waste it while paying for the order. Therefore, it is good to provide them with familiar, easy-to-use, safe and, above all, fast payment methods.
Send emails
Email marketing is still an effective method of acquiring customers. If you run an online store, you have certainly managed to collect a database of addresses. Use it to run a campaign.
You have to remember that probably all players on the market will fight for the attention of recipients. Therefore, e-mails must be prepared with due diligence. What elements should a message sent on Black Friday have?
·  catchy topic where you will offer a specific benefit
·  clear and well-displayed call to action (for example the "buy now" button)
·  using the sense of urgency (e.g. by including information about the date and time of the end of the promotion in the message).
It is good practice to send several messages to one recipient. This is especially important if you plan to extend the promotion. You can read about the time frame later in this article.
Use the power of social media
Social media profiles are a great platform for communicating with recipients during Black Friday. Prepare posts in which you will inform about your offer. This is a good method for free promotion.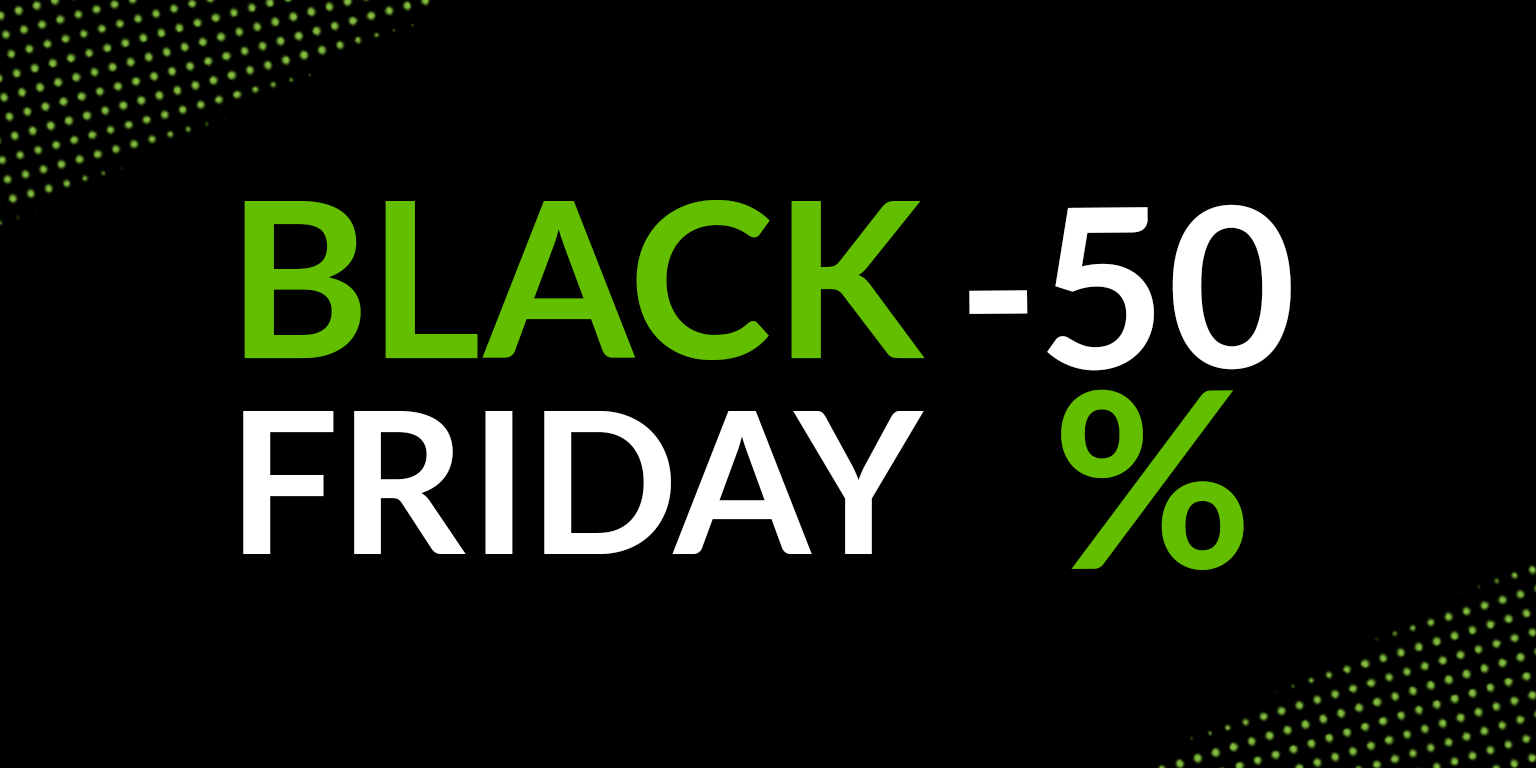 Cover photo on facebook
Discount groups and sites
There are many websites and groups devoted to discounts and promotions on the Internet. Placing information about the offer there is usually free. The advantage of these types of sites is that they attract users who are initially interested in buying. Therefore, your role will be to persuade them to use the services of your store.
Promotions on the last Friday of November have become an integral part of marketing. Many customers hunt for bargains during this time. This is a great chance to increase your profits. 
What to look for when creating communication on Black Friday
It's easy to make mistakes when creating a marketing campaign. What should you watch out for?
Consistency of the message
Regardless of the communication channel, your message should be identical. Keep your promises, slogans and graphics consistent. Thanks to this, potential customers will remember you easily.
Appropriate timeframe
Black Friday online campaigns rarely only last one day. Some companies decide to start the promotion even 7 days earlier. Most often, the promotion runs throughout the weekend. In the electronics industry, Cyber Monday has become the standard. It is a day of sales 3 days after Black Friday.
Prepare an attractive offer
The companies' offers for Black Friday are very attractive from the customer's point of view. Most often, the reductions amount to several dozen percent.
You should make sure that your offer does not stand out from the competition. A discount of 5% will not impress anyone. The absolute minimum at this time is 20%. It is also worth deciding to offer additional benefits, such as free delivery or freebies when buying more products.
Create a sense of urgency
Although Black Friday promotions last up to a whole week, their effectiveness is based on creating a feeling of urgency. Let your users know when the promotion ends. Also use a countdown clock - you can use it not only on the website, but also e.g. in e-mails.
Conclusion
Creating an effective Black Friday campaign does not have to be associated with high costs. If you run an online store, you can use many free communication channels. Take care of the appearance of the website, share quick payments, send mailings, promote yourself on social media and on pages informing about discounts. This way, you will reach potential customers without spending a fortune.