1. DuckDuckGo

The developers of this tool advertise it as a search engine that respects user privacy. Therefore, it is supposed to be a good alternative to Google. However, if you carefully read the regulations, you will find out that the search engine stores information about searches, but does not link them with specific users. IP addresses or other data that could facilitate the identification of specific people using DuckDuckGo are not collected.
According to the developers of this search engine, data archiving is necessary to improve it and repair errors caused, for example, by typos.
2. StartPage.com

This search engine is another tool where user privacy comes first. Here, the developers went a step further than with DuckDuckGo. StartPage.com gives you the opportunity to use a Proxy server that increases anonymity.
There is a downside to this solution, because pages load a bit slower than other search engines.
StartPage uses Google's search results. Thanks to this, users who are used to working with the largest search engine can easily get used to this more niche tool.
3. Quant

Google collects and analyzes information about user behavior not only for advertising purposes. This practice allows for precise matching of search results to the intentions of users. The algorithms recognize that the sources of information you have used in the past are reliable for you, and you will be happy to return to previously visited pages or sites similar to them.
This solution seems convenient at first glance. In the long run, however, it creates an information bubble. Information from the same sources is usually similar. As a result, they narrow the point of view and make it difficult to objectively assess the facts.
The creators of the Quant search engine decided to use a different solution. Their tool does not track or save search data. Thanks to this, it does not filter information sources and the results may turn out to be more objective than in the case of Google.
4. Ecosia

Google has been criticized for contributing to global warming and environmental degradation. Powerful servers to function properly consume a huge amount of electricity. It has an impact on nature.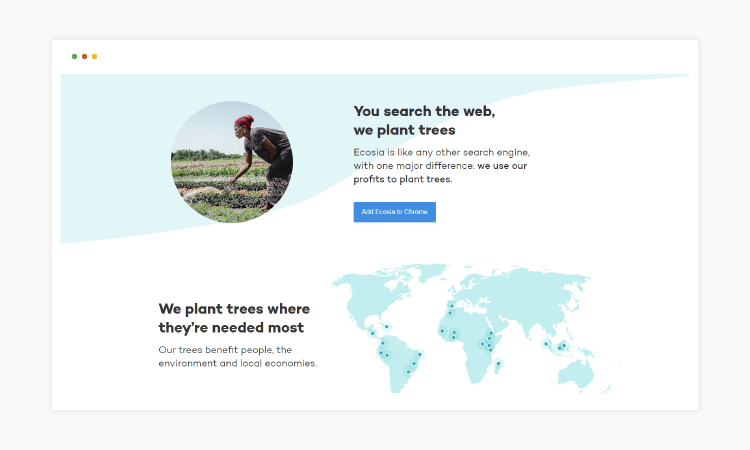 The creators of the Ecosia search engine drew attention to this problem. They try to reduce the environmental impact by allocating profits to tree planting. The energy necessary to power the servers in this case comes from renewable energy sources. According to the company's declaration, each search reduces the amount of carbon dioxide in the atmosphere by 1 kg.
5. Bing

It's a somewhat forgotten search engine made by Microsoft. Although its glory days are rather past, it is still worth attention for at least two reasons.
First, it offers an affiliate program. Users receive points for each search, which they can exchange for discounts on Microsoft products.
Second, it is extremely useful in finding video materials. Google owns the YouTube platform, which is why videos from this site are most often at the top of the list of results. With Bing, the results are more mixed.
For 10 years, Google has consistently been the leader in the ranking of the most visited websites. Already in 2002, it overtook Yahoo and became the most popular Internet search engine in the world. Today, over 90% of people using search engines choose Google.
6. Swisscows

As the name suggests, it is a Swiss search engine. It has its own indexing system for German-language pages. For other languages, it uses the Bing engine.
Swisscows should primarily be of interest to parents. This search engine is distinguished by the fact that it blocks content not suitable for minors. You will not come across violence or pornography here.
7. CC Search

The Internet is a rich source of non-copyrighted material. CC Search is a search engine that makes it easy to find this type of content.
Here you can find graphics, films and music for free use on the website. CC Search filters content using popular sources such as Soundcloud or Flickr and selects those published under Creative Commons licenses.
8. Wiki.com

This tool will come in handy for people who are looking for user-generated content on wiki pages like the popular Wikipedia or fan pages for movies and series.
9. Yandex

It seems to be a little known brand. However, it is very popular in Russian-speaking countries. In Russia alone, it is responsible for about 50% of searches - more than Google (about 46% of the local market belongs to the American big brother).
Yandex is a really powerful tool that offers many services similar to Google. Here we will find an Analytics equivalent under the name AppMetrica.
Like the Mountain View giant, Yandex is sometimes accused of interfering too much with users' privacy. However, it can be an interesting solution for people who are looking for information in the Russian-language part of the Internet.
10. Baidu 

It is the leader of the search engine market in China. There it is responsible for over 60% of inquiries. It gained popularity at a time when Google withdrew from the Chinese market for a while. In addition to the typical search options, Baidu users can use a Chinese-English dictionary, forum or community knowledge portal.
Conclusion on search engines alternatives
Google owes its good position on the market primarily to high quality. However, there are many interesting solutions on the market that are worth paying attention to. They let you look at searched information for broader perspective and give you the access to valuable content, which are not always visible for google users.