How to start learning web design? 
As we have already mentioned, web design is a field of computer graphics that combines many elements. What exactly will be necessary then?
Basics of drawing
It's a base for any activities related to visual arts. Although it might seem that computer graphics doesn't require drawing skills, the reality is quite different. 
Basic drawing skills for web design will be useful at the beginning. The first sketches of the page are usually made on paper. In addition, learning how to draw is the first step to learning the basic principles of fine arts. 
First of all, you'll learn the principles of composition. Laying out individual components of the drawing on a sheet of paper will allow you to better plan the placement of elements on your page in the future.
Thanks to this you will create projects that will be useful and original at the same time and stand out from the competition. 
Secondly, you'll learn proportions. Your will be more aesthetically pleasing and will become more useful. The individual components of the site will have the right size relative to each other, which will translate into the perception of the whole site by the user. 
Thirdly (maybe most important), you'll learn to look. A person dealing with design must develop a specific way of perceiving the world, often called the "artistic sense". Contrary to what you may think, this is not a 100% innate skill. It is acquired largely while learning how to draw. 
Of course, drawing is just the first step to becoming a web designer. A piece of paper and a pencil are not enough to create a working page. What to use then?
Interface creation programs
These are probably the most commonly used tools. Thanks to them it is possible to create a graphic design of the page. For some time, dedicated solutions have been gaining popularity, however, some web designers still use more comprehensive programs.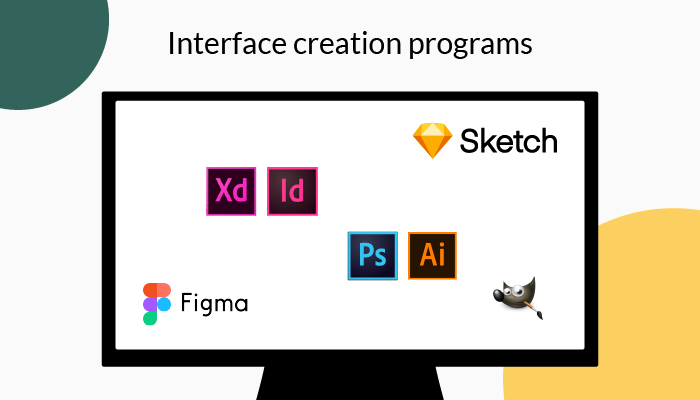 The choice of a particular solution largely depends on personal preferences. It is worth spending some time to familiarize yourself with at least a few programs and check in which one you work best. Below you will find some of the most popular suggestions along with a brief description. 
Sketch
This solution was created especially for designing website interfaces. It quickly gained popularity due to the simplicity of use and the fact that it is accessible from the browser level. Unfortunately, this application can only be used by owners of computers with macOS.
Adobe XD
Sketch's direct competitor is a fairly simple application that works primarily when designing uncomplicated pages. Many of its functions are available for free. The advantage of Adobe XD are quite low hardware requirements. The disadvantage - the functions are quite limited in comparison with the competition.
Graphics software
Photoshop, InDesign, Illustrator or free Gimp are still used to design websites, but their popularity is still decreasing. This is due to the fact that they were created for other tasks. Therefore they are being replaced by the solutions described above.
Website builders
These are tools that allow you to create websites without coding. Thanks to them, a person with basic graphic skills will create not only a project, but a working website.
The user interface of website builders is not much different from the interface of graphic programs. In the case of WebWave it is very similar to Photoshop. 
The possibilities of page builders are really wide at the moment. You can create graphically complex projects on them. 
Such tools enable, among others, adding photos in any format, creating galleries and sliders, adding animations and effects. They can be used to create elements of variable size and location. In short, they offer the same possibilities as graphic programs, but they also allow you to create a working page ready for publication on the internet with one click. 
Of course, the pages created in the website builder are adapted to the screens of mobile phones and tablets. In the case of WebWave, an RWD machine is used to do this automatically. You can also create a mobile version of the page manually and decide for yourself the appearance of the mobile version of the site.
Website builders also enable website optimization in terms of SEO. They offer a tool that makes website positioning easy and effective. One such solution is the WebWave SEO analyzer, which suggests how to optimize individual web pages of a website. 
They are also great tools for creating custom pages. This is supported by functions dedicated to cooperation with clients.
Current site maintenance and modification are also possible with website builders. So these are the tools that you can use to design, launch and maintain a page, and even transfer administrator permissions to the person who commissioned the creation of the site. 
Other tools useful for designing websites
Web designers can choose from a wide range of solutions to facilitate work. These include image banks, raster graphics editors, icon creation programs, and more. 
Where to get inspiration? 
Even the most creative minds need inspiration. On the Internet you can find many websites devoted to creating websites.
There you will find information about the latest trends, technical innovations and tools useful in the work of a web designer. It's a rich source of knowledge and inspiration.
The most popular portals of this type include Smashing Magazine, Web Designer Depot, Awwwards, and Designrfix.  This is what most web developers use, which is important not to lag behind the competition. 
A good source of ideas is also the websites of agencies and freelancers dealing with web design. It is on their sites that builders can best show their skills and aesthetic sense. 
On the internet, you will also find many online courses devoted to website design as well as specific programs. Online courses, as well as materials available for free on YouTube, can be a good source of knowledge for beginners.
Web design appeared quite recently. The first websites that were created in the early 90s were very simple. They consisted almost entirely of text. The development of technology meant that photos and animations quickly appeared on them. 
How long does it take to learn web design?
In short, the whole professional life. One of the basic features, and for many advantages of this profession is the fact that it is associated with continuous development and expansion of competence.
Meeting changing customer demands requires flexibility and continuous learning. Well-known solutions will not work in every case, which is why you still need to look for new ones, tailored to a specific project.
Technology is another aspect that cannot be forgotten. The first sites were very simple - their appearance was limited by the technical capabilities of computers and the low speed of data transfer. 
Over time, websites have become increasingly expanded and full of graphical "fireworks". This was associated with an improvement in the bandwidth of Internet connections and an increase in the computing power of computers. 
The spread of smartphones has reversed this trend. Now the sites have become "lighter" again. Both visually and as far as the amount of data needed for downloading the site are concerned. Thanks to this, they are better adapted to the needs of mobile device users. 
User Experience also plays a significant role in web design. The site's usefulness depends on how it works.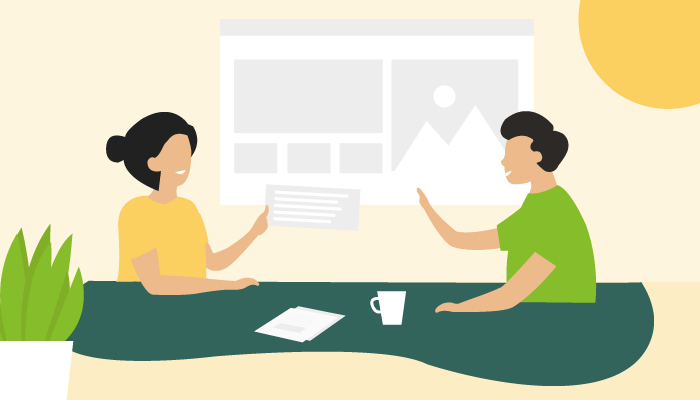 A poorly designed site that loads slowly or has no intuitive navigation discourages users who leave it quickly. 
Tools for analyzing user experience are becoming more accurate and allow you to modify sites in terms of functionality.
All this comes with fashion. Web design trends change practically from month to month. Pages are constantly analyzed and updated so that they never appear outdated. A good web developer always keeps his finger on the pulse to keep up with changes and even overtake them. 
Another issue is how quickly you can learn how to design websites enough to earn in this industry. This is a very individual matter and depends on at least several factors. 
Firstly, general art skills and experience. Creating the first page will take a lot less time for a person who has long been interested in drawing or graphics. People who have just begun to be interested in graphics need more time for the first step in visual arts. 
Secondly, the choice of tool and its complexity. Mastering graphics programs and other page creation tools also take time. It seems that in this case, the best solution is website builders, which allow you to create the first working website in minutes.
Does only a web designer need knowledge in the field of creating websites?
Until now, we have dealt with web design from the position of people who want to deal with website designing professionally. Does this mean that only they should be interested in this topic? 
Website design is primarily a job for professionals. However, creating your own website is today easier than ever. Website builders such as WebWave make this task easier. 
Knowledge of the basics of web design will allow virtually anyone to build a working small business website, portfolio or a site about a hobby.
Also, people who want to outsource the creation of a website should at least roughly learn about web design. Thanks to this, it will be easier for them to express their expectations, and cooperation with the contractor will be faster and without unnecessary misunderstandings.
Conclusion
Web design is developing dynamically. The number of entities commissioning the creation of websites does not decrease, and website design can be a great source of income. 
A good start to the web designer career are studies that give basic knowledge useful in design, but people without formal education are doing quite well in this profession and are gaining even large clients.
To design a good site, it is useful to have a basic knowledge of visual principles and relevant software. However, even beginners and those who do not want to create websites professionally can successfully create a visually attractive and functional website. 
This is possible thanks to the website builders, in which creating websites not only does not require coding but is intuitive and accessible to everyone. 
One of such tools is WebWave, which offers all the features related to web design completely free and without time limits. Therefore, regardless of whether you are looking for a tool for professional work or you want to create a page for yourself - register today and discover the possibilities of our website builder!